Smartwaiver has been a part of some pretty big events over the years; from high-profile national racing competitions, to collegiate sports championships, to the largest music festivals in the U.S.; we've handled it all. A couple weeks ago we were thrilled to be on one of the largest stages in professional sports - Super Bowl 50!

Each year at the Super Bowl's host city, the Host Committee puts on a week-long, free-to-the-public fan event that leads up to the big game. This year Super Bowl City was set up as an interactive fan experience in downtown San Francisco designed to celebrate the milestone Super Bowl 50. Before fans were able to participate in the free activities, however, each participant was required to sign a release of liability waiver. Of course, organizers of an event this size, being held in the epicenter of the tech industry, wouldn't think of using ineffectual and archaic tools like pen and paper to collect these waivers. That wouldn't be very smart.

"Dozens of volunteers used tablets to gather digital smart waivers from fans as they entered the games and experiences," said Chris Garrity, Head of Marketing and Innovation for the Super Bowl Host Committee. "It really sped up the process and throughput, helping us collect tens of thousands of legal digital documents in just over a week!"

Mr. Garrity went on to explain, "With over 100k fans in attendance at Super Bowl City, we needed a fast and reliable digital waiver solution to collect these releases. Smartwaiver was hands down the best solution out there. We knew that Smartwaiver had handled other high-profile events, including prior events for the NFL, so it was a no brainer to go with them. The service worked flawlessly."

Smartwaiver's CTO, Ted Knudsen, was the lucky one from the office who was able to attend the festivities this year and captured a few photos from the event.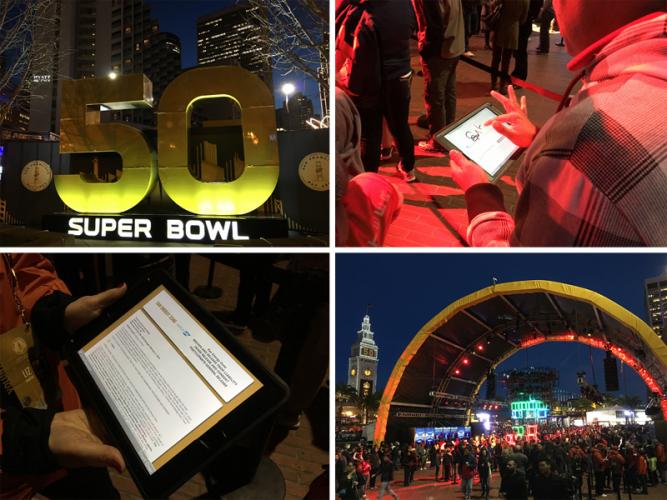 Can't wait to be there next year!