Administering activity waivers is key for many businesses, often those in the adventure industry. Think of one-of-a-kind, thrilling activities like ziplining adventures or kayaking tours. However, activity waivers can be used by a broad range of other organizations for many different activities.
Activity waivers help protect organizations and their equipment in the event of damages or accidents. These risks are present during many activities, not just adventurous activities like surf lessons in Hawaii. For example, volunteers at an animal rescue could be at risk of personal injury, and the shelter might consider asking those interested in volunteering to sign a waiver.
There are a few important considerations to keep in mind when implementing waivers into your organization's operations. In this guide, we'll break down some common activity waiver questions and explore five best practices:
Even organizations that already use waivers could improve their existing processes. Rather than using paper waivers or offering them at your physical location only, consider investing in digital waiver software that allows participants to sign ahead of time on their own devices.
Before we dive into the other benefits of digital waiver software, let's walk through the basics of activity waivers.

What is an activity waiver?
Activity waivers are agreements between an organization providing an activity and the individual participating in the activity. By signing the waiver, participants acknowledge the risks of the activity and agree to release liability from the activity provider.
Depending on the local laws in your area, this can help protect your organization from certain risks. Because activity waivers are legal documents, it's of utmost importance that you work with a legal professional to understand waiver laws and develop the waiver language.
When should organizations use activity waiver forms?
There are many different types of legal waivers, some for very specific circumstances and others for broader uses. Activity waivers can be used in many different scenarios by a variety of industries and organizations.
While used very commonly by the adventure industry, there are times when other businesses and organizations need activity waivers. Here are some examples of times when organizations might use a waiver:
A river tubing company requires participants to sign an activity waiver before they hop in a tube and float down the river.
A school asks parents to agree to an activity waiver before allowing students to take part in its annual field day event.
A nonprofit organization holds a 10K each year and requests that each participant sign the

race waiver

before competing.
A youth baseball team requires parents to sign a sports activity waiver during enrollment.
There are many different reasons an organization might need an activity waiver, and it's important to consult a lawyer when deciding whether your organization needs one.
5 Activity Waiver Best Practices
Now that you have a grasp of the fundamentals of activity waivers and their necessity, it's time to put them into action. Here are some essential tips to guarantee a seamless process for both your organization and participants.
1. Use digital waiver software.
While traditional paper waivers might be the first thing that comes to mind when you think of waivers, this method is antiquated and much less efficient than the modern approach: digital waivers.
Digital waivers contain all of the same language and fields that your paper waiver would, but they are much more flexible and customizable to your needs. For example, if a Spanish-speaking participant needs to agree to the waiver, you can adjust the language with just a few clicks.
Some of the other benefits of using digital waiver software are that it is:
Cost-effective.

Using digital software will save your organizing money on printing costs like paper, ink, and printing services. Additionally, when everything is done online, neither your organization nor your participants ever need to mail waivers or other required documents. To take full advantage of these cost-saving benefits, make sure to choose an affordable provider. For instance,

Smartwaiver's services

start at $19 per month and offer a 15-day free trial.
Easy-to-use.

Choose software that is easy to set up and teach your team to use. Because participants might sign the waiver ahead of time on their computer or mobile device, the solution should also be user-friendly on the participants' end. This way, they'll be able to complete the waiver without needing much assistance from your staff.
Convenient.

Because digital waivers are available online, signing in at your location or event will be a much smoother process for participants. For participants who complete them in advance, they can simply start the activity without worrying about reading and signing the document first. For those who didn't complete the waiver ahead of time, offer waiver kiosks. Once you have the completed waivers, they'll automatically be added to your online database (eliminating the need to file them by hand!).
Secure.

Waivers could contain sensitive information about your participants, and storing them in a physical file cabinet isn't the best way to protect their data. Instead, keep this information in a secure database. Digital waivers can also make the agreement itself more secure by capturing photos of those who sign them.
Digital waiver software can be beneficial for organizations of any size. If your organization only uses activity waivers twice a year for certain events, their ease of use will make it easy for staff to quickly learn how to use the software. On the other hand, if your organization is in the adventure industry and accepts dozens or even hundreds of waivers each day, the secure, searchable database will make finding a specific waiver much faster and easier.
2. Work with a legal professional.
As we've mentioned throughout this article, working with a legal professional is strongly recommended when making a waiver. Legal guidelines and laws that could impact your waiver can be difficult to understand on your own, but a lawyer has the knowledge to interpret them.
Lawyers are also trained in writing legally binding contracts, and they will have the necessary expertise to write language that is both compliant and protective of your organization. Remember to ask your lawyer to help you write and review your waiver during each phase of its creation, but particularly before launching your final draft to participants.
3. Include key activity waiver components.
Your organization should work with a lawyer to create the actual waiver language, but keep in mind that there are some other components to include to ensure participants understand everything and can respond accurately. For instance, you may want to include things like your organization's logo or other branded elements to maintain consistent branding.
To make sure your waiver collects all necessary information, fits your organization's needs, and fulfills all requirements, you'll need software with a highly-customizable form builder. Look for one with features like: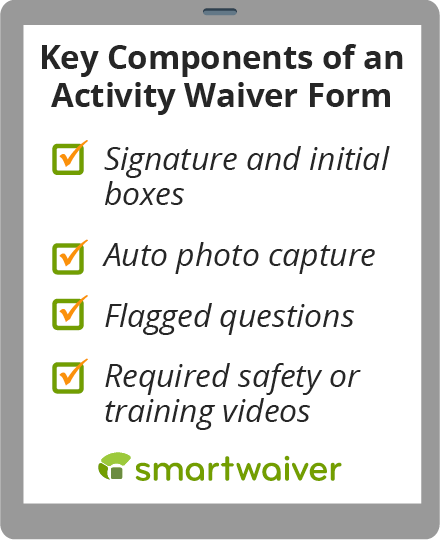 Signature and initial boxes.

Of course, o

btaining a signature is an important component of the digital waiver process. With Smartwaiver a signature box is required with each waiver template to ensure your organization obtains a signature from the participant. If there are important subsections that participants must agree to within the form, add initial boxes as well.
Auto photo capture.

Add an extra layer of security by capturing a photo of the participant signing the waiver. With Smartwaiver's software, you have the option of setting up your iPad to take three photos of the participant as they sign the waiver. Keep in mind that your organization can only use this feature if the participant is signing the document in person at your Waiver Kiosk.
Flagged questions.

There are some questions on a waiver

that may require a little extra attention from staff members before participants can check in to their activity. If the participant checks

Yes

to a question like this, a red flag is presented next to the participant's name in the Waiver Console.

Required safety or training videos. Add a safety before participants can sign the waiver and join the activity. This is a seamless way to incorporate required training so everything participants need to complete before the activity is in one consolidated form.
Once you add these features, carefully review the document to make sure there are signature or initial fields wherever they are needed. Consider asking your lawyer to review this final draft to confirm that the waiver contains all relevant fields.
4. Share waivers in advance.
A major benefit of digital waivers is that you can share them before the activity or event takes place. Your organization can share links to the waiver via email or social media, and you can also embed them on your website.
If you run a kayaking business, for example, you might dedicate a page of your website to the waiver form so potential customers can easily find it. Or, if you work for a nonprofit and require volunteers to sign a waiver before working with the organization, include a link to the form in your welcome email to new volunteers.
In addition to reducing congestion at sign-in desks, you could see other benefits from sending out waivers ahead of time such as:
Increased accessibility.

Some participants may have trouble reading or signing the waiver on their own. If they can access the waiver at home, they can use a screen reader, increase the size of the document, make the screen brighter, or have a caregiver assist them. Additionally, they can take as much time as they need to read and carefully consider the terms of the waiver before signing.
Boosted awareness of your organization.

Sharing your waiver online can assist in spreading awareness about the activity, particularly if the waiver is associated with a specific event (e.g., your nonprofit is holding a fundraising event). If people come across a social media post or email reminding participants to sign your waiver, they might be curious and consider attending.
Improved participant experiences.

Participants will have more time to read over and prepare for the activity when they can access the waiver in advance. They'll know what to expect during the activity and can plan ahead to make their experience better. For example, if they know that they might get drenched by a waterfall during their boating trip, they might think ahead and bring a change of clothes.
While waivers might be viewed as a hindrance or pesky administrative task by some participants, they can actually make the experience better by helping participants better prepare for activities. And because digital waivers are more accessible than paper ones, your organization can make it possible for more people to read, understand, and sign the waiver.
5. Review and update waivers often.
Legal documents like waivers should be reviewed periodically to ensure all the information contained in them is still accurate. Even a small change could have big impacts on your waiver, requiring you to adjust sections or rewrite the entire document. To avoid the risk of having an outdated waiver, work closely with your lawyer to develop a schedule to meet and review the document.
As a general rule, you should review your waiver:
On a regular basis defined by your unique industry (e.g., monthly, bi-annually, yearly, etc.)
In response to any changes to waiver-related laws
In response to changes in your organization's rules, offerings, restrictions, etc.
To avoid having an outdated waiver, prioritize carefully comparing the waiver against any relevant updates. If the terms are no longer applicable or compliant, this could negate the benefits of obtaining a liability release from participants.
Additional Resources
Activity waivers can be a useful tool for many organizations across a wide range of industries. To leverage these waivers for your organization, make sure to invest in digital waiver software. The right tool will make everything from storing documents to searching for a specific waiver much easier and faster for your staff.
To try out our comprehensive solution, claim your free trial of Smartwaiver's software!
Want to learn more about using waivers at your organization? Check out these helpful resources: