Digital Waivers for Adventure Tourism
For thrill seekers and adrenaline junkies, it's all about finding the next adventure. Amid the pandemic, many have turned to outdoor experiences like horseback riding, skiing, rock climbing, and river rafting that allow them to enjoy thrilling experiences while still following safe distancing guidelines.
After a year that presented challenges for many across the industry, experience providers are eager to welcome new participants. However, increased numbers also mean a heightened opportunity for risk.
How Digital Waivers Help Adventure Tourism
In the adventure tourism industry, exciting, one-of-a-kind experiences are requisite. But when it comes to protecting your organization, so are liability waivers.
Liability waivers, also known as "hold harmless agreements," are legally-binding documents signed by your participants. They protect your organization from both unintentional incidents as well as cases of participant negligence. On signing, the releasor acknowledges their participation in an activity with risk potential and absolves you of liability in the event of an accident or injury.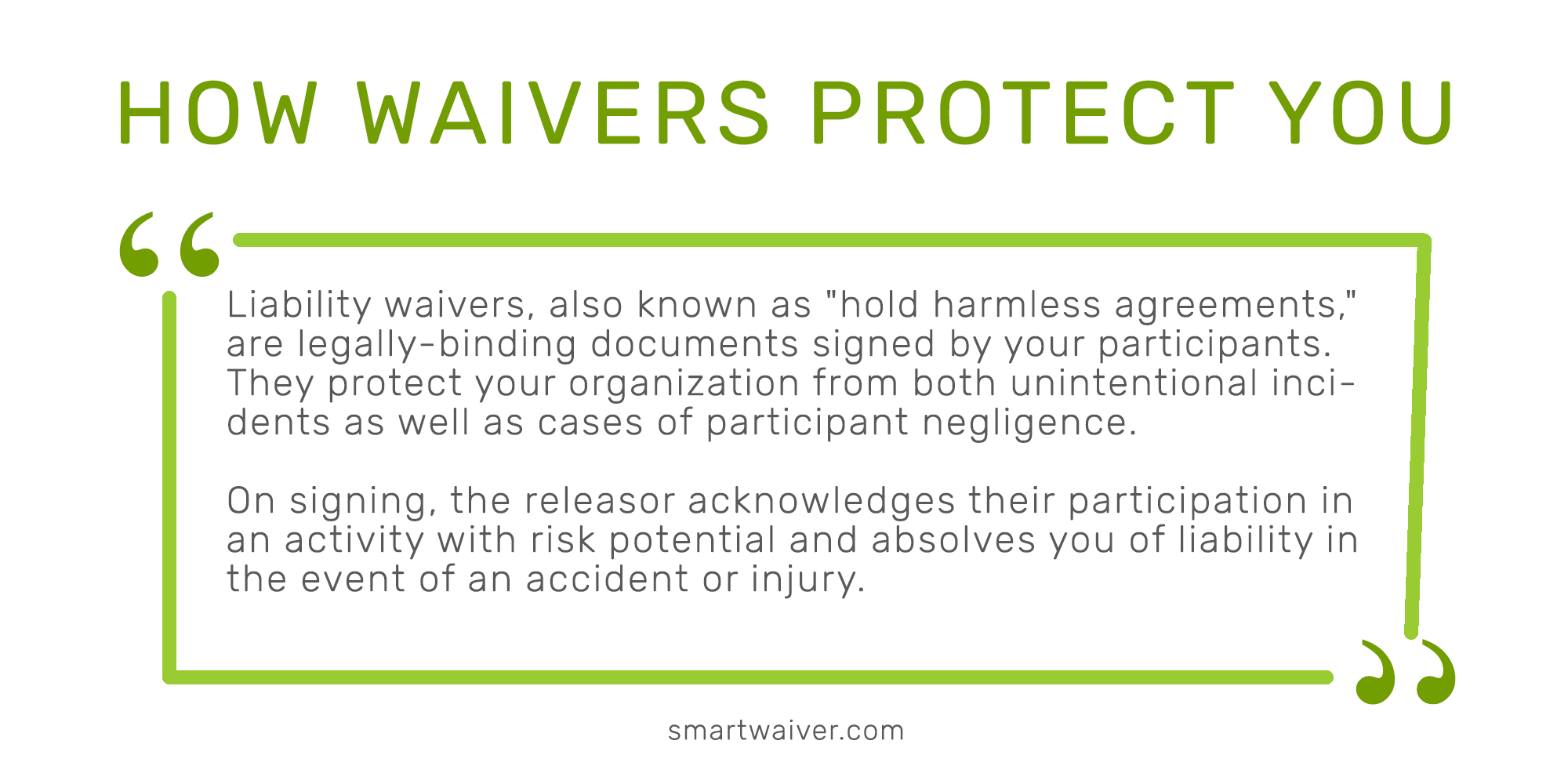 In adventure tourism, many activities take place outdoors; some, in remote locations. In these cases, ensuring that everyone has signed and returned their liability waivers can be challenging.
These challenges may include: transporting stacks of paper waivers to and from the event, ensuring each participant signs and returns their release before engaging in an activity, assuring their information is both legible and accurate and keeping loose documents safe while outdoors.
By switching to digital waivers for adventure tourism, you alleviate nearly all of these concerns.
Common Concerns About Digital Waivers for Adventure Tourism
In the adventure industry, it's not uncommon for organizers to rely on paper waivers. After all, a clipboard and pen come easy and don't require much effort on behalf of your participants. When considering the switch to digital, some may have concerns about how it will affect their check-in process and customer experience.
Some common concerns include:

What if I lose connection?
If you operate in an area with a spotty connection or entirely off the grid, you might be hesitant to rely on a digital service. Fortunately, digital smart waivers operate offline, allowing you to collect signatures without an active Wi-Fi signal. With offline mode, your waivers are temporarily stored locally on your device. Once a data connection is established, your waivers will automatically upload to your cloud-based account.
Won't it be too complicated?
It's a common misconception that digital waivers will be too complicated for your guests and slow down the check-in process. However, in most cases, they're more user-friendly than a standard paper release form.
Unlike paper documents that may be smudged, faded, or poorly printed, digital waivers are crystal clear, making it easier for your guests to read and sign. Not to mention, many find typing or texting faster than handwriting, speeding up the check-in process. With integrated auto-fill features, guest data can be pre-populated, reducing the amount of information they have to enter manually. In just a few ticks, your waivers are complete and automatically uploaded to your secure Smartwaiver account.
What if guests don't sign in advance?
Because they're digital, smart waivers can be completed on your website or sent to your participants via email before they arrive, streamlining the check-in process. If they don't sign before the event, they can complete their release in person using a designated digital kiosk, via tablet or smart device.
What about sanitation?
COVID-19 has changed the way many businesses operate, including their sanitation practices. While digital waivers generally rely on a central kiosk using a tablet or computer, Smartwaiver's QR (Quick Response) code generator makes it easy for guests to sign their releases directly from their mobile phones. Using the QR code generator, your participants can scan your unique code, opening your smart waiver directly on their mobile phones. This allows them to safely sign their release without ever making contact.
Wrapping Up
At the end of the day, ensuring your patron's safety and enjoyment is likely among your top priorities. At Smartwaiver, ours is helping you provide memorable experiences while also protecting your business.
Our digital waivers are more than just a safety precaution. They're valuable tools that can help you improve your user experience, enhance your marketing initiatives, and manage your client base.
Want to see for yourself? Try Smartwaiver free for 30 days with no credit card required.