Smartwaiver is committed to empowering businesses of all sizes, catering to both the local mom-and-pop's and industry giants alike. Our mission is simple: to streamline the waiver signing process and provide organizations, regardless of their scale, with the confidence and reassurance they need to tackle liability concerns head-on.
In 2012, Smartwaiver embarked on a journey to revolutionize the digital waiver landscape. Our quest began just outside our doorstep, here in Bend, OR.
Situated on the eastern side of the breathtaking Cascade Mountains, Bend has become a haven for outdoor enthusiasts, attracting adventurers and thrill-seekers from far and wide. As we initially focused on providing liability waivers for exhilarating activities like guided river rafting tours, rock climbing, and mountain biking, we quickly realized the immense value our software held for a diverse range of businesses beyond the realm of recreation.
Some of our earliest adopters held space well outside the adventure industry, including indoor rock gyms, day spas, and dance studios. Today, we'll focus on two such businesses that are not only well-known in the Bend community but renowned.
Considered among the "Best of Bend" in their respective fields, these businesses are household names among locals. While they offer entirely different services, they both rely on Smartwaiver to meet their diverse liability needs.
Join us as we take a closer look at two beloved Bend businesses and explore how Smartwaiver became their go-to solution for efficient, secure, and seamless digital waivers.
Spotlight on Monolith Tattoo Studio
As one of Smartwaiver's earliest customers, Monolith Tattoo Studio has proudly held the title of Best Tattoo Shop in Bend since its opening in 2011. With over 50 years of combined experience, their highly skilled tattoo artists draw visitors from across the Pacific Northwest to design one-of-a-kind works of art in their pristine 4,000 sq. ft studio.
With the ever-popular tattoo studio in full swing for the Summer season, we reached out to the friendly team at Monolith to find out how they're making Smartwaiver work for their organization.

Smartwaiver + Monolith Tattoo Studio
How long have you been a Smartwaiver user?
(MTS) - We have been a Smartwaiver user for over ten years now!
Why did you choose Smartwaiver?
(MTS) We chose Smartwaiver as a way for our clients to electronically fill out consent forms, so we don't have to house paper consent forms!
What is your preferred method for collecting waivers? (Tablet kiosk, computer, contactless via mobile device)
(MTS) We use Smartwaiver Kiosks on a tablet, as well as contactless via mobile devices!
What benefits do digital waivers provide your clients?
(MTS) Digital waivers benefit our clients by giving them the opportunity to fill out their consent forms prior to their appointment time.
What benefits do digital waivers provide your team?
(MTS) Digital waivers benefit our staff by eliminating the need for additional hardware in the studio and cutting down on check-in time.
Outside of hold harmless/release of liability waivers, are there any other waivers you rely on for your operations? (Photo, video, social media releases, etc.)
(MTS) We don't currently use any other waivers but could in the future!
What else would you like readers to know?
(MTS) We use Smartwaiver at all 3 of our locations for a seamless check-in!
Summary
Monolith relies on Smartwaiver to share their waiver with guests before they arrive for their appointment. Leveraging both text and email links, digital waivers reduce the time their guests spend at the front desk, ensuring they have ample time to work with their professionally licensed artists.
While guests with appointments can complete their waivers before they arrive, they also utilize Smartwaiver kiosks on a tablet at their front desk for walk-in visitors.
To learn more about this award-winning tattoo studio, visit them online.
Spotlight on Central Oregon Gymnastics Academy
Our next spotlight focuses on an organization with over two decades of history in Bend. Central Oregon Gymnastics Academy (COGA) provides a variety of gymnastics programs for children ranging in age from two to 12 across myriad skill levels. While COGA opened its doors to different ownership nearly 24 years ago, its newest owners share a passion for athletics and a desire to maintain the organization's esteemed legacy within the Bend community.
In addition to their professionally led gymnastics classes, COGA also opens its expansive facility to the community for events such as open play, birthday parties and special events, and the crowd-pleasing Parents Night Out. A staff-supervised drop-off event that allows the littles to play in a fun and safe environment while the parents enjoy an evening on the town.
We spoke with Jordan Bailey, COGA's newest owner, to learn how they utilize Smartwaiver.
Smartwaiver + Central Oregon Gymnastics Academy
How long have you been a Smartwaiver user?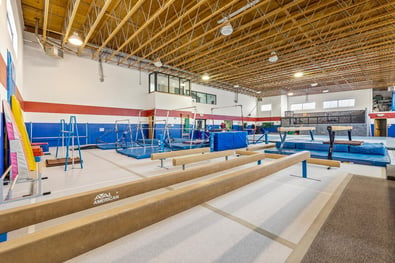 (JB) We purchased our business two years ago. The previous owner used Smartwaiver and was happy with the service, so we continued to use [Smartwaiver] when we took over.
Why did you choose Smartwaiver?
(JB) We inherited the use of Smartwaiver when we acquired our business but have been very pleased with the ease of use.
What is your preferred method for collecting waivers? (Tablet kiosk, computer, contactless via mobile device)
(JB) We typically use an iPad in our lobby for parents to use to fill out the waiver for the first time. We also link our waiver to our website and have many families opt to fill out a waiver ahead of time. I love that feature.
What benefits do digital waivers provide your clients?
(JB) Parents can fill them out in advance if their child is getting a ride with someone else to a class/party/etc.
What benefits do digital waivers provide your team?
(JB) Simple record keeping. I love that we can pull reports. This helps track our growth in various programs.
Summary
With an array of services, including ongoing gymnastics courses, one-time events, and open play, COGA relies on Smartwaiver to ensure their guests have easy access to their waiver, whether online or on-site.
With Smartwaiver's Smart Trends, they can also pull reports, allowing them to glean valuable marketing insights from their signed waivers and track their organizational growth.
With a long-standing in the Bend community, we're proud to continue our relationship with the caring and talented team at Central Oregon Gymnastics Academy.
To learn more about their esteemed programs and offerings, visit COGA's website.
Wrapping Up
As proud members of the Bend community, we're honored to share our space and product with two such respected organizations and look forward to our continued partnerships.
If you're interested in making the switch to digital liability waivers, we encourage you to try it yourself, absolutely free, with our free trial.