Camp & Retreat
Go Digital With Smartwaiver
In the U.S., summer camp is a right of passage. But if you manage a youth camp or retreat, protecting yourself from the liability that comes with outdoor recreation is vital.
Camp and retreat waivers protect organizations from a variety of common risks, including property damage and loss to personal injuries, ensuring you're not held responsible in the event of an accident or injury.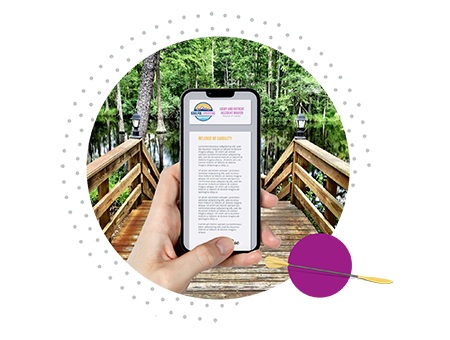 That means if you're still using paper camp & retreat waivers, it's time to upgrade by making the move to digital ones. At Smartwaiver, we're here to help simplify the transition by converting your existing waivers to a digital alternative for free.
And if you don't already have a waiver—no problem! We'll help you convert your waiver language into a digital smart waiver in minutes!
Affordable

Our digital camp & retreat waivers start at only $15/month. When you think about all the time and effort you'll be saving, that's an even better deal! Additionally, you can see if we'll be a good fit by trying us out risk-free—no credit card required.

User Friendly

It's simple to get started with, and both your team and your customers will appreciate how easy our digital camp & retreat liability waivers are to use. Guests can sign from their own mobile devices on the go, or from an easy-to-use signing kiosk at your facility.

Hands-Free

There's no need to worry about spreading germs with our hands-free, contactless liability waivers. Waivers can be signed ahead of time online or via text, email, or social media. And for guests who arrive without signing, they can scan a QR code with their smartphone and sign on the spot!

Convenient

Finally get rid of your drawers full of old paper waivers! With Smartwaiver, each digital waiver is stored in a highly secure vault for easy access. Any waiver can be pulled from your extensive database in seconds. Plus, you'll never have to worry about misplacing a waiver again.

Secure

Each signed Smartwaiver comes with a certificate of authenticity—meaning there's no question about whether your waivers are genuine and legally-binding! Plus, our patent-pending Auto Photo Capture technology adds an increased layer of security to each waiver by verifying the individual's identity as they sign.