Races & Events
Go Digital With Smartwaiver
Planning a race or a similar event (i.e., walk-a-thon, fun run, etc.) is a lot of work. But one aspect that's often overlooked is the waiver-signing process.

Most races already require participants to sign a release of liability waiver before partaking in the event. However, the procedures for doing so are typically a bit outdated—with clipboards, pens, and paper forms handed out by a volunteer or staff member. A simpler solution? Try Smartwaiver.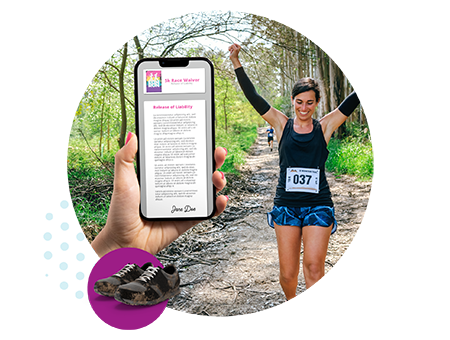 That means if you're still using paper race & events waivers, it's time to upgrade by making the move to digital ones. At Smartwaiver, we're here to help simplify the transition by converting your existing waivers to a digital alternative for free.
And if you don't already have a waiver—no problem! We'll help you convert your waiver language into a digital smart waiver in minutes!
Affordable

Our digital race & events waivers start at only $15/month. When you think about all the time and effort you'll be saving, that's an even better deal! Additionally, you can see if we'll be a good fit by trying us out risk-free—no credit card required.

User Friendly

It's simple to get started with, and both your team and your customers will appreciate how easy our digital race & events liability waivers are to use. Guests can sign from their own mobile devices on the go, or from an easy-to-use signing kiosk at your facility.

Hands-Free

There's no need to worry about spreading germs with our hands-free, contactless liability waivers. Waivers can be signed ahead of time online or via text, email, or social media. And for guests who arrive without signing, they can scan a QR code with their smartphone and sign on the spot!

Convenient

Finally get rid of your drawers full of old paper waivers! With Smartwaiver, each digital waiver is stored in a highly secure vault for easy access. Any waiver can be pulled from your extensive database in seconds. Plus, you'll never have to worry about misplacing a waiver again.

Secure

Each signed Smartwaiver comes with a certificate of authenticity—meaning there's no question about whether your waivers are genuine and legally-binding! Plus, our patent-pending Auto Photo Capture technology adds an increased layer of security to each waiver by verifying the individual's identity as they sign.