Imagine you own and manage a boat tour center named Bear Creek Kayak Rentals. As a tour company, your mission is offering a wonderful, fun, and memorable experience for your customers. However, another top priority is safety— for both your customers and your organization.

Your liability waiver is the first step to implementing a safety net for both parties. Not only does it inform your customers about the risks associated with the tour activity, but it also provides a release of liability for your company.

For instance, just last week a visitor to Bear Creek Kayak Rentals was injured on a tour. A participant had fallen overboard and ended up hitting her head. While the customer wasn't seriously injured, there was the initial concern as to the safety of the participant. Understandably. And yet— because of the tour waiver she signed— she understood that there was a risk going into the activity in the first place, and it was one that she assumed responsibility for.

Release of liability waivers can be more than just a precaution, though! Your waivers offer unique opportunities to help your company stay organized, better market your adventures, and ease the registration process while simultaneously ensuring safety for all parties.

How does that happen? Well, we'll answer that question through a series of other questions. Here are some of the primary considerations for your company when you think about your tour waiver:
Why are tour waivers important for your company?
Why invest in an online tour waiver?
What are your users expecting from the tour waiver?
What features should you look for in tour waiver software?
How do you analyze the pricing of tour waiver software?
What's the best tour waiver solution?
Ready to learn more about how to make the most of your liability waiver? Let's get started!

Why are tour waivers important for your company?
Tour waivers are first and foremost a release of liability. However, it's important to remember that the enforceability of a release of liability differs by state regulations. Therefore, be sure to check your state's rulings about liability waivers and consult a lawyer before making your tour waiver public.

Tour waivers are important because they protect your business from lawsuits for negligence in the event of an accident.

For Bear Creek Kayak Rentals, tour waivers are essential because of the inherent risk present in the activity. It's protection for both your company and the participant. The tourism industry is prone to risk, and informing participants about such risks, as well as asking them to release your business from responsibility in case of an accident, keeps everyone a little bit safer.

Remember that waivers aren't necessarily a no-lawsuit-no-problems safeguard. Gross negligence is hard to excuse even with a comprehensive liability waiver. Therefore, your organization still needs to act responsibly.

When it comes to ensuring the language of your waiver, be sure your organization follows these best practices:

Conduct research on the background of your state's liability release decisions.
Take inventory of the risks associated with the activity tour you planned.
Look at a variety of waivers from similar organizations and activities.
Consult a lawyer about your particular organization's tour waiver.
Just having a waiver isn't enough. You need to make sure your waiver includes all the necessary information to enforce safety for the risks associated with your individual tour activities.

Plus, when you have the right kind of waiver, you can ensure safety while also boosting daily operations and becoming a more efficient organization overall.

Why invest in an online tour waiver?
You're aware that your organization needs a waiver, but have you given consideration as to what form that waiver should be in? Your company can choose between a paper and a digital waiver to communicate safety information and a release of liability to your participants.

We recommend investing in a digital waiver solution.

One of the first questions people ask when it comes to digital waivers is, "Are they legal?" The answer is: yes!

According to the E-Sign Act of 2000, digital waivers are just as valid as paper waivers so long as organizations adhere to some additional regulations, including:


The waiver must be in a digital form.
The waiver must be accessible to the consumer.
The consumer must give consent to sign electronically.


The Act itself states that, "a signature, contract, or other record relating to such transaction may not be denied legal effect, validity, or enforceability, solely because it is in electronic form."

You may be thinking, "Okay, sure, it's legal, but why does that mean it's the better choice?" Well, digital waivers offer many advantages over paper waivers. Two advantages are an easier (and safer) filing method and a faster and more efficient signing process.

Digital tour waivers have the unique ability to be saved online, meaning everything is accessible within a waiver console. Instead of storing physical papers in drawers and file cabinets which can be easily disorganized or damaged, everything you need is available at your fingertips. You could go through the trouble of scanning paper waivers into a digital format, but that requires an additional step and much time and energy from your staff.

Plus, with a digital solution, it's easy to distribute the tour waiver ahead of time and encourage early signatures. Then, when people arrive for the tour, you can get started that much faster.

When Bear Creek Kayak Rentals implemented digital tour waivers, you were able to cut down on check-in and registration times upon arrival. This way, eager participants can get to the water faster than ever before!

What are your users expecting of the tour waiver?
We know you want to wow your customers with your incredibly unique waiver for your organization. However, be careful with how you go about impressing them.

While you could take the graphic liberties of filling white space with images and colors, the best way to impress your customers is simply fulfilling (and exceeding) their expectations when it comes to including important information.

Your tour attendees have two main expectations for your tour waiver: the form should be accessible and it should provide all of the necessary safety information.
The tour waiver should be accessible.

In order to make sure your waiver is accessible for all audiences, you'll need to carefully consider the different audiences you may encounter. Ask yourself questions such as:


Is my activity tour available for both adults and children?
What language(s) do the majority of my customers speak?
Does my waiver differ from year to year?
Is my waiver worded in a way that's easy to understand?


Then, make sure your waiver is fully accessible to all users with features such as multi-language tools, parent/guardianship relationship settings, and waiver expirations.

After you've made some key considerations like these, you can start thinking about the kind of content you'll need to include.
Tour waivers should communicate key safety information.
One of the primary purposes for your tour waiver is to inform your attendees of the potential risks of participating in your adventure tour. It's also designed to keep your organization safe from potential liability concerns.

Therefore, you'll need to be sure your waiver has features to communicate safety precautions and concerns applicable to both parties. Features to ease such communication include:


Auto photo capture. This provides proof of the identity of the person who signed the waiver because it takes a picture of the attendee as they sign.
Flagged questions. Set up custom questions that flag participants when a specific answer is chosen. This is an easy way to learn about any specific needs that may slow a participant down or require your team to give them special attention during the tour.
Safety videos. If you need to give concrete safety instructions for your tour attendees, embed a video into your digital waiver. For example, if you require participants to watch a boating safety video before signing, you can rest assured the vital information was communicated.
Statement of risks. Be sure to explicitly mention all potential risks involved in the activity so that participants are aware of exactly what they're getting themselves into. This way, your tour attendees also know what to watch out for, too!
Collecting and communicating important safety information is a necessary aspect of your waiver and your tour company's responsibility to your customers. Plus, attendees expect to have all of the information they need before they take on a new adventure.

What features should you look for in tour waiver software?
As you can imagine, it would be basically impossible to implement an auto photo capture feature or embed a safety video on a paper waiver. But these aren't the only features that make a more efficient tour waiver solution.

Finding a software solution with all of the best features will help your company engage your attendees and ease their signing process.

The features you look for should help ease the process when it comes to using the waiver software, marketing your tour waiver, and managing the data collected through waiver distribution.
Using Tour Waiver Software

One wonderful thing about waiver software is that you can present the form on multiple devices and in different formats to best satisfy your attendees. Some usability features to look for include:


Waiver kiosk options. While many people will choose to sign your waiver online on your website or social media account, some people will still expect to sign at the tour location itself. Therefore, make sure you offer a way for them to sign upon arrival. Look for a waiver solution with an app that can easily transform your tablet into a waiver kiosk.
Offline accessibility. This is an especially important feature for your kayaking tour company and other providers of outdoor activities. Wifi tends to be spotty (at best) while outdoors, so ensuring offline accessibility is key for everyone to access the waiver upon arrival for the tour.
QR code. Lines can build quickly at your waiver kiosk, which is exactly what you're trying to avoid. Speed up the process by allowing participants to sign via their own smartphone if they choose. A QR code connects the participant to the waiver quickly and easily on a phone. Note: to take advantage of this feature, you must also make sure your waiver is mobile responsive.
Check-in features. Look for a solution that also offers check-in features so that you know who is in attendance regardless of whether they signed online ahead of time or upon their arrival. Simply search your attendee's name and check it off the list of tour participants.
When people can access your waiver from their preferred device, it kicks off their engagement on the right foot. For example, your eager kayaking participants can sign your tour waiver ahead of time, check-in from their mobile device, and enjoy a streamlined registration process. The more quickly they get to the water, the better!
Marketing Your Tour Waiver
Ensuring your waiver is easily accessible to all is an incredibly important first step. However, it's also important to make sure people know where to find your tour waiver. This is where marketing comes into play.
Look for tour waiver technology with features such as:
A waiver widget. Waiver widgets appear like a tab on your website. They make it easy for an attendee to find and sign your tour waiver without ever leaving your website.
Web button. Create a customized web button for your company's website to link directly to your organization's waiver. Make sure to include a strong call-to-action on the button!
Email links. Send a link to your waiver directly to your interested participants with email links. This takes out the search step of signing your waiver for participants.
Social media embedding. Embed your tour waiver on Facebook so that your social media viewers will have immediate access to your form as they view other marketing collateral.
What good is your waiver going to do if no one knows where to find it? Make sure you incorporate your waiver into the rest of your company tour's marketing campaign.
Using Waiver Data
While the top priority for your tour waiver is liability protection and communicating safety concerns, that doesn't mean these are the waiver's only purposes. Your tour waiver is a great avenue to collect data that can be used in the future.
For instance, automatically exporting the names and contact information of your tour attendees is a great way to improve and expand your organization's CRM.
This prevents you from manually inputting information about new and existing participants in this database, while continuously gathering key insights about your boat tour attendees!
Other features to look for in software that can help you save and use waiver data include:
Email integrations. Instead of taking a step to download all email addresses and reload them into your marketing tech, look for waiver software that integrates with popular email marketing platforms. This will streamline the process of expanding your marketing strategy based on the data pulled from your waiver.
Waiver console. Sometimes you'll need quick access to the data you collect from supporters. Look for waiver software with a centralized console system that makes it easy to scroll and search through your tour participants.
Notes. Notes are handy for saving quick snippets of information about each of your participants to be used in the future. These notes should download with the rest of your participant data as a part of the CSV file. For instance, you may note that this is John Smith's 10th tour with your company! Make a note to send him a congratulatory letter.
Access to this information is great for your organization, but don't forget the safety concept we keep coming back to. In order to truly protect your participant's data, you should consider a waiver software with user permissions so that only administrators have access to sensitive data.

How do you analyze the pricing of tour waiver software?
So we've established that investing in digital form software is the best option for your next tour waiver. So the next natural question is, "How much will it cost me?"

There are two separate pricing systems you can look for when it comes to waiver tech:


The Number of Waivers Pricing Model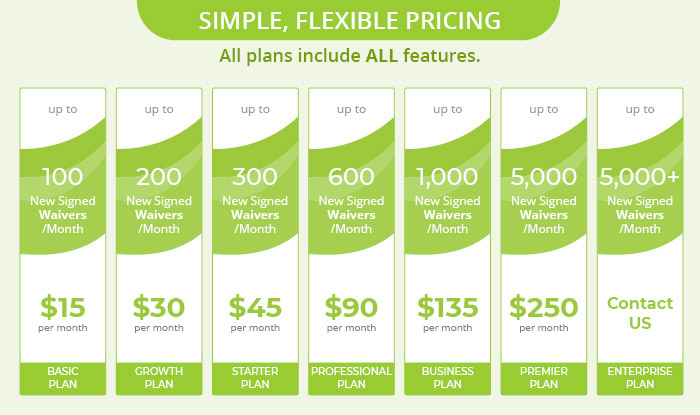 The first (and best) pricing system relies strictly on the number of waivers a company needs. With this system, companies only pay for the number of waivers they need and all of the features are included.

This is beneficial for organizations of all shapes and sizes. It shows a clearer view of the services your tour company is paying for. Plus, there are fewer hidden costs, creating a more predictable and budget-friendly waiver pricing system. This type of pricing also benefits smaller organizations because they have access to more functionality.
The Additional Feature Pricing Model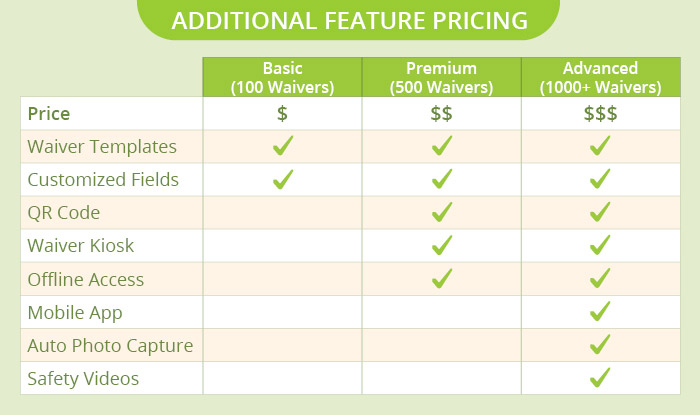 In this pricing model, the lower the price of the package, the fewer features you have access to for the waiver tech. When you upgrade and purchase larger packages, you add on additional features. Generally, these systems will also use the number of waivers as a price variable. For instance, you may get half of the features and 100 waivers at the lowest price point, but to access more features, you need to increase your package to the more premium option.

This pricing model puts smaller organizations at a disadvantage because they would need to purchase larger packages for features. A smaller one would be more affordable, but also more limiting.

For example, if you only have 100 kayaking participants, you wouldn't want to splurge on a pricier package for additional waivers you might not need. But you also don't want to miss out on useful features due to a lower demand for waivers in the short term
Try Smartwaiver Today
Smartwaiver offers all of the features listed above, from Auto Photo Capture to Safety Video embedding and more.

Plus, with Smartwaiver, you'll have a team of professionals ready to help you make the transition from paper waivers to a digital solution.

Get started by signing up for a free trial today!