The process of creating a waiver should be taken seriously. Waivers are legal documents that list specific terms for your participants to agree to, so it's crucial that they are complete and legally sound. Professional help from a lawyer is strongly recommended any time you are working with legal documents.
However, there are a few steps your organization can take to make the waiver process easier for both you and your participants, such as using digital waiver software. You'll want to make sure that you include the core components of any waiver (like a signature box) as well as custom fields to gather important information about participants.
Here at Smartwaiver, we strive to make this process simple and stress-free—for your organization and its patrons. In this guide, we'll cover some waiver basics and the steps to creating waiver forms for your organization:
Before creating your waiver, it's important to understand exactly why you're making one. Let's start by covering the benefits of a waiver and exploring a quick example.
What is an example of a waiver?
Waivers are legal documents used by businesses and organizations to obtain a liability release from those who sign. You could also use them to learn more about the participant and give them information that will help them prepare for the activity or event—like embedding a training video into the form.
Local laws about waivers can vary, and they should shape the language you use in your waiver. It's best to work with a lawyer who is an expert in creating and executing waivers to avoid costly legal issues down the line.
In addition to potentially helping reduce legal risks, you can also use waivers to:
Include a photo release statement
Obtain parental permission for minors
Gather useful information about participants
So, what does a standard waiver look like? There are many different types of waivers, but a standard liability waiver typically includes a liability release statement that participants are required to agree to.
Here's a quick example of what one of these statements might look like for a fictional zipline company:
I (Participant Name) affirm and acknowledge the hazards and risks associated with the activities offered by West Coast Ziplining, Inc. I am voluntarily participating in these activities with full knowledge of the risks involved. I hereby agree to assume any and all risks of bodily harm, death, or property damage.
I verify this statement by placing my signature here: _______________
Keep in mind that this example is for educational purposes only. It is not exhaustive or complete, and it does not contain real legal language. We do not recommend using it as a template because it has not been reviewed by a legal professional.
How to Make a Waiver in 4 Steps
1. Work with a lawyer.
As we've mentioned, partnering with a lawyer during this process is a must. Lawyers have the formal education, on-the-job training, and experience needed to write legal documents that protect your organization from legal risks. Additionally, they are better equipped to understand and keep tabs on any laws affecting waivers
While it might be tempting to skip lawyer fees and use a free online template, this approach is not recommended. To the untrained eye, waiver templates can seem legitimate. However, they often do not account for the nuances of your industry or the waiver laws in your area—and they may not have been written by legal experts. While talking to a lawyer can be expensive, this upfront investment in your organization can pay dividends in the long term.
2. Invest in digital waiver software.
After you find a lawyer to support your waiver-creation efforts, look for a digital waiver solution. Digital waivers are similar to traditional paper waivers. They have all of the same information and data-entry fields, but they exist entirely online. Instead of having participants physically sign their names in ink, you can simply collect an electronic signature
Check out this quick video to learn more about how using digital waiver software streamlines waiver collection:
As our video explains, there are many benefits associated with digital waivers. At Smartwaiver, our goal is to help you get more than just a signature out of your waivers while keeping the process simple. Our software provides all of these benefits to make your life easier. For example, we offer:
Integrations with the business tools

you're likely already using, like Fareharbor booking software and MailChimp's email services.
Increased accessibility

through multiple language options and the ability to access waivers ahead of time, from anywhere.
Access to more data via custom fields.

You can request contact information, personal details like birthdates, and

files like vaccination records.
An extra layer of security

through Smartwaiver's patent-pending Auto Photo Capture feature and our Certification of Authenticity. And with electronic forms, you won't need to worry about deciphering messy handwriting.
Our software is flexible, meaning that it can adapt to fit your unique needs. When you're ready, you can load your waiver language into one of our blank form templates to create the final digital form.
3. Determine the type of waiver you'll need.
There are many different types of waivers, and they are usually tailored to the activity or event your patrons are participating in. While liability waivers include a liability release statement, you can get more specific with the type of waiver in order to address your organization's specific needs.
For example, some of the different types of waivers include:
Tour waivers, used by organizations that provide things like nature tours.
Race waivers, used by nonprofits or other organizations that are hosting a race or marathon.
Salon waivers, used by salons and spas when providing services that could have risks.
Gym waivers, used by gym owners to alert patrons of the risks of using their services or equipment.
If you're unsure about where to start, consider looking into an activity waiver. These waivers can apply to a variety of situations, and your lawyer can help you tailor the language to your offerings.

4. Add the form to your software and share!
The last step in the process is to load the waiver you created with your lawyer into your digital waiver software. You can add custom fields to ensure you collect an initial or signature at every step of the way. Once your draft is complete, ask your lawyer to check over it one last time.
After the waiver is approved, you can begin sharing it with your participants! Remember that a major benefit of digital waivers is the ability to share them ahead of time. This way your participants can take the time they need to carefully read over and agree to the terms, review any training materials you added, and prepare for the activity based on information in the waiver. This also cuts down on the time they spend completing forms before the activity or event.
Next, we'll cover some more specific ways you can share the waiver in order to provide a more positive signing experience.
How to Enhance Your Signing Experience
Technology is advancing at a staggering pace, and with it, consumer expectations continue to grow. Businesses across adventure tourism, travel, fitness, and hospitality are under pressure to exceed their expectations, to meet the ever-growing competition.
Here are some of the ways you can use Smartwaiver's digital waiver software to improve the signing process for participants: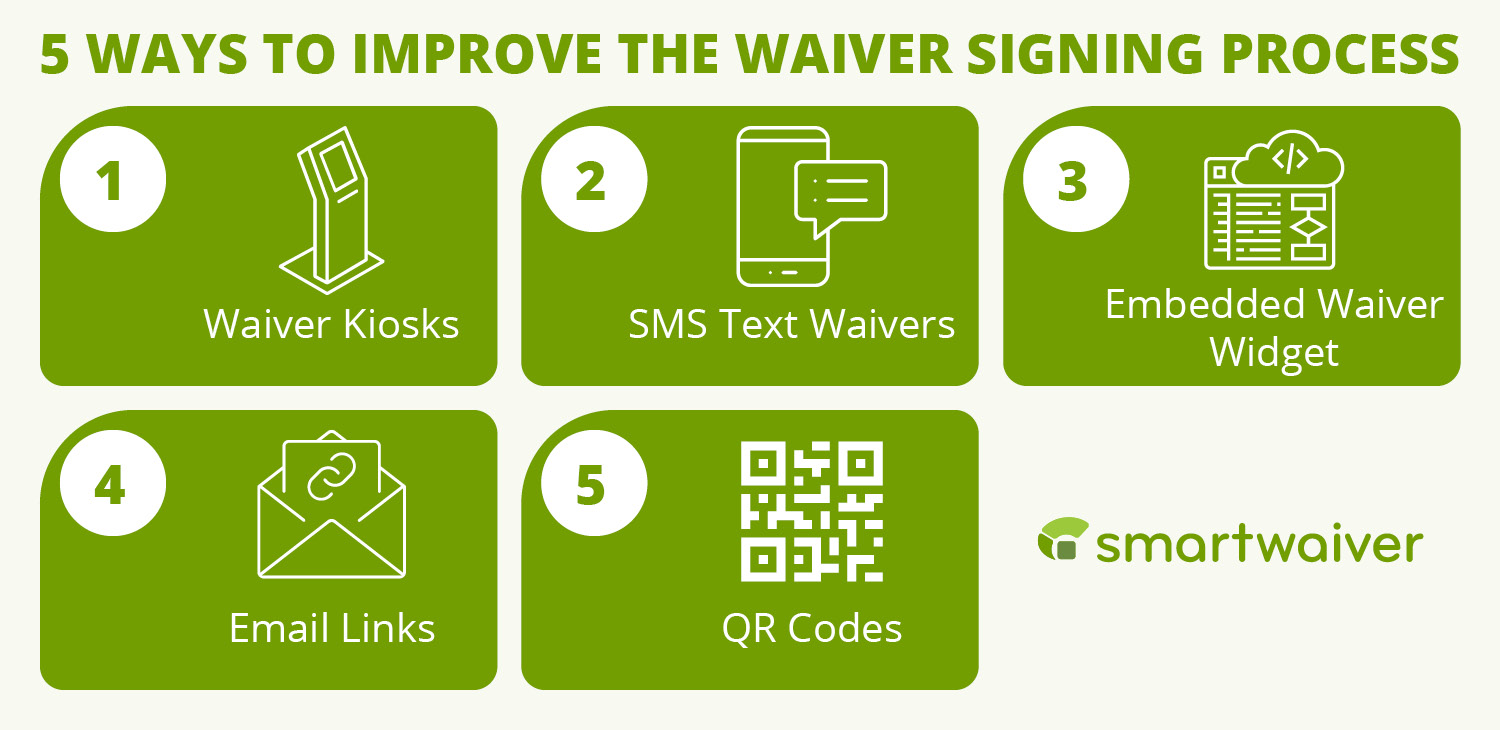 Waiver Kiosk
With Smartwaiver's free mobile app for iOS and Android, you can turn your tablet into a dedicated waiver-signing kiosk, complete with branded elements like your logo and colors.
To ensure a quick check-in process, your organization can set up a single signing station or multiple kiosks at no additional cost. This can be particularly helpful for larger organizations and franchise operations. The mobile kiosk even works offline, storing your waivers locally until an internet connection is established.
SMS Text Waivers
In a mobile-centric world, one thing is certain: Your patrons will almost always have a smartphone handy.
With Smartwaiver, you can send guests a link to your digital waiver via text message, expediting the sign-in process. This is especially beneficial when a parent needs to sign a waiver for a minor and they're not present at your facility. It's also valuable for outdoor experiences where a free-standing kiosk isn't an option.
Embedded Waiver Widget
Our custom waiver widget embeds your digital waiver directly into the pages of your website, allowing guests to complete the form without ever leaving your site. The sleek button can be customized with your organization's branding, including text, size, placement, and colors.
Once embedded, the button will appear at the bottom of your website so participants can complete it before they arrive at your location.
Email Links
Automated email links place the link to your digital waiver directly in your emails. Consider adding links to the waiver in your monthly newsletter, promotions, or their signup information. By tying your waiver link to your participant signup documents, you can increase the likelihood of patrons completing their waivers before they arrive.
QR Codes
While digital waivers generally rely on a central kiosk using a tablet or computer, Smartwaiver's QR (Quick Response) code generator makes it easy for guests to sign their releases directly from their mobile phones. This is a great alternative (or addition) to waiver kiosks. You might post flyers near your signup desk that participants can scan if the kiosks or busy or your organization doesn't offer them.
Using the QR code generator, your participants can scan your unique code, opening your smart waiver directly on their mobile phones. This allows them to safely sign their release without ever making contact.
Additional Resources
Whether your organization is an adventure tourism business or a nonprofit, you could encounter situations in which you need a waiver. Make the process easier for both you and your participants by using digital waivers to create, share, and sign the documents. If you're interested in learning more about how digital waiver software works, claim your free 15-day trial with Smartwaiver.
To learn more about waiver best practices and digital waiver software providers, check out these other helpful resources: