Liability waivers were once reserved for thrill-seeking experiences such as whitewater rafting, skydiving, or bungee jumping. These days, they're more commonplace, found anywhere from hair salons to summer camp. While most are accustomed to signing these legally binding documents, the process can still be tedious, adding another step to the check-in process and reminding participants of risk.
For industries built on providing one-of-a-kind experiences, ensuring customer satisfaction is of the utmost importance. While thrilling adventures or high-quality services are enough to garner positive reviews, offering your guests a seamless user experience will keep them coming back for more. That's where Smartwaiver comes in.
Learn how digital waivers can enhance your customer experience in the guide below.
Why the Signing Experience Matters
Let's face it – liability waivers aren't much fun. They're legally binding documents that protect your organization from litigation in the event of an accident or injury. While release of liability waivers are indispensable for businesses, they're less exciting for patrons, who are essentially signing away their right to pursue legal actions.
Although most individuals will freely sign waivers to participate in an activity, taking steps to make the process more efficient can help improve customer satisfaction.
In a paper waiver world, your guests must find a pen, a hard surface, and the time to fill it out. This cumbersome but necessary step can slow down the sign-in process exponentially, resulting in long lines and a poor experience. It's also a challenge for your staff, who not only have to ensure that each participant has completed their waiver but that the information they provided is accurate and legible.
Offering a solution that enhances speed, convenience, and consistency makes for a truly positive customer experience while also providing a streamlined process for your staff.
How Digital Waivers Simplify the Sign-in Process
So, how do digital waivers simplify your sign-in process? The better question is, how don't they?
Digital liability waivers rely on easy-to-use technology that allows you to create better customer experiences. Online waivers are user-friendly and consistent, minimizing friction and stress for both your patrons and employees. Crystal-clear digital forms are easy to complete in just a few taps and upload safely and securely to the cloud and your local hard drive so they're always accessible when you need them. With multiple ways to share your online waiver, patrons can quickly complete your form anywhere, anytime, increasing the number of signed waivers before an event and expediting the sign-in process.
"So, how do digital waivers simplify your sign-in process? The better question is, how don't they?"
In certain industries, you can assign long-term expiration dates to your waivers, so your repeat customers only have to sign once rather than at every visit.
With powerful and intuitive features, seamless integrations, and a robust waiver editor that allows you to customize your waivers to your exact specifications, you can quickly elevate your sign-in process and your customer experience.
Enhance Your Signing Experience
Technology is advancing at a staggering pace, and with it, consumer expectations continue to grow. Businesses across adventure tourism, travel, fitness, and hospitality are under pressure to exceed their expectations, to meet the ever-growing competition.
At Smartwaiver, we offer modernized features that make it easy for our clients to stay ahead of the curve.
SMS Text Waivers
In a mobile-centric world, one thing is certain – your patrons have a smartphone handy. With Smartwaiver, you can send your guests a link to your digital waiver via text message, expediting the sign-in process. This is especially beneficial when a parent needs to sign a waiver for a minor and they're not present at your facility. It's also valuable for outdoor experiences where a free-standing kiosk isn't an option.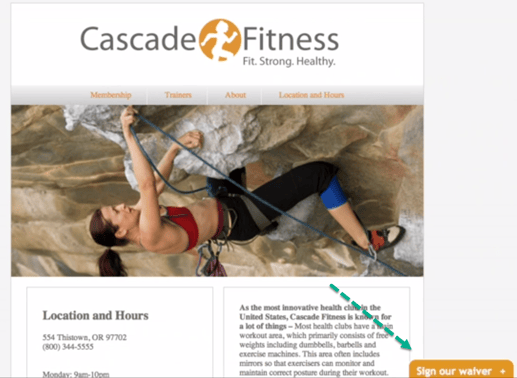 Embedded Waiver Widget
Our custom waiver widget embeds your digital smart waiver directly into the pages of your website, allowing guests to complete the form without ever leaving your site. The sleek button can be customized to your specifications, including text, size, placement, and colors. Once embedded, the button will appear at the bottom of your website, where participants can complete it before they arrive at your location.
Customized Web Button
Like the waiver widget, the customizable web button allows patrons to complete their digital smart waiver without navigating away from your website. Having your waiver accessible in a single location reduces confusion and makes it easier to share your waiver with patrons, especially those in large groups. Customize your text, colors, and font size to create a button that matches your website and design aesthetics, then place it on your website for easy accessibility.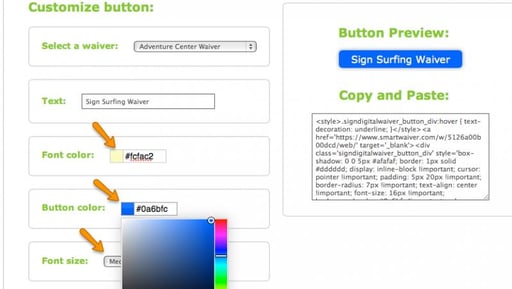 Email Links
Automated email links place the link to your digital smart waiver directly in your emails, making it easier for customers to find your waiver while reading your monthly newsletter, promotions, or their signup information. By tying your waiver link to your participant signup documents, you can increase the likelihood of patrons completing their waivers before they arrive.
Waiver Kiosk
With Smartwaiver's free mobile app for iOS and Android, you can turn your tablet into a dedicated waiver signing kiosk tailored to include branding items like your logo and colors. Set up a single signing station or multiple kiosks at no additional cost to ensure a speedy check-in process for larger organizations and franchise operations. The mobile kiosk even works offline, storing your waivers locally until an internet connection is established.
Contactless QR Codes
COVID-19 has changed the way many businesses operate, including their sanitation practices. While digital waivers generally rely on a central kiosk using a tablet or computer, Smartwaiver's QR (Quick Response) code generator makes it easy for guests to sign their releases directly from their mobile phones. Using the QR code generator, your participants can scan your unique code, opening your smart waiver directly on their mobile phones. This allows them to safely sign their release without ever making contact.
Wrapping Up
In highly competitive industries taking steps to set yourself apart is crucial. At Smartwaiver, we provide the tools and resources you need to create a streamlined user experience before your guests even arrive. Learn more about our robust host of features or try us free.
Looking for digital waivers for your franchise organization? Contact our enterprise sales team today to learn how Smartwaiver can help!