What Are Release of Liability Waivers?
Whether you're providing zipline adventures for thrill seekers or dance classes for kids, the release of liability waiver is a requisite tool meant to protect your organization from litigation in the event of an accident or injury.
While liability waivers are a fundamental safeguard for service and experience providers, nobody really wants to talk about them. Why? Because, while vital, these documents don't scream "fun." They remind your participants that risk is involved, and in some cases, may cause them to second guess an activity. But just because they're not exciting doesn't mean they're not necessary. Ensuring your business is protected from liability is essential for long-term success and sustainability, especially for those providing high-risk experiences.
So, how do you capture these all-important documents while still providing a quality customer experience?
Drafting a Great Liability Waiver

While necessary, release of liability waivers may be off putting for participants. After all, they're designed to protect you, the organization, rather than the party signing. And though the wording you use is essential for ensuring you're covered from a range of incidents, choosing concise language that's easy for your patrons to digest can expedite the signing process without overwhelming them.
Can't I Find One Online?
The internet is full of waiver templates that can be easily copied for general purposes. While convenient and often free, generic templates don't offer the same protection as one drafted with your industry or organization in mind. Liability waivers exist for myriad uses, ranging from events and incidents to photo and video releases. Unless you fully understand the language used within the document, you may be vulnerable to loopholes that could render your agreement non-binding.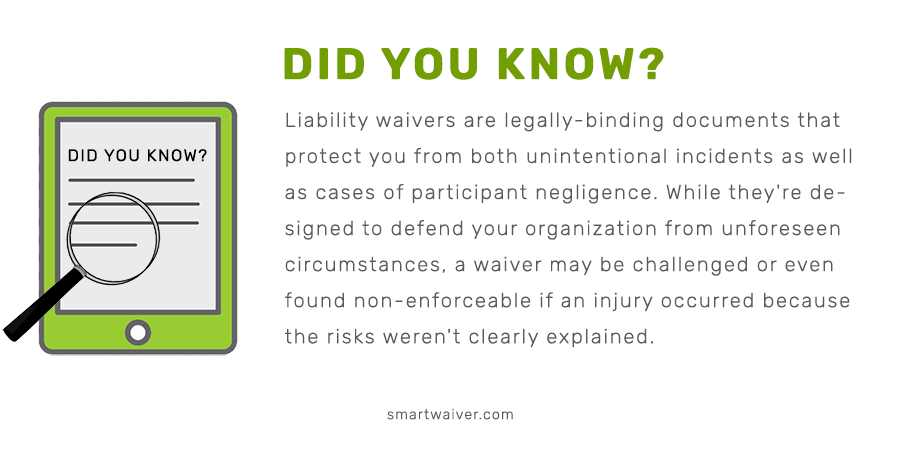 Tips For Crafting a Bullet-Proof Waiver:
If you choose to write your own, avoid legalese that may be confusing or misleading. Waivers should be written in plain, concise language that participants will understand.

Avoid fine print. Your waiver should clearly and accurately inform your patrons of all risks without leaving room for doubt or confusion. Poorly composed wording is one of the primary reasons liability waivers aren't enforced.

Ensure that your waiver adheres to your state requirements. Each state has unique conditions that, if not followed, may invalidate your agreement.

To guarantee you're protected, consult with your attorney and/or insurance company to ensure you've covered all the bases.
In general, all liability releases should include:
Releasor (the participant): Name, address, contact information.
Releasee (you, the organization): Name, address, contact information.
Effective Date: (The date the document was signed.)
Acknowledgment of Potential Risk: Depending on your industry, this may include bodily or personal injury, property damage, illness, or death.
Assumption of Risk: Participants should agree to assume all reasonable risks involved in the event or activity.
Insurance: Notify participants that your insurance will not cover injuries, illnesses, or death unless otherwise noted. If applicable, participants should assume responsibility for any medical bills if an injury occurs.
Confirmation of Review: Identify that the participant has completed and understands the document, is signing of their own free will and has not been coerced.
Signature(s): Provide room for signatures for adults and spaces for minors participating with parental consent.
Who Needs a Release of Liability Agreement?
In industries like adventure tours, athletics, or skydiving experiences, a level of danger is generally assumed by individuals going in. In other enterprises, such as salons, tattoo shops, and pet care facilities, you may not realize the risk potential, exposing yourself to liability for unforeseen incidents.
In general, businesses that work closely with customers to provide a service or experience may benefit from a liability release. An attorney or insurance agent familiar with your industry, as well as your state and local laws, can help determine the best course of action.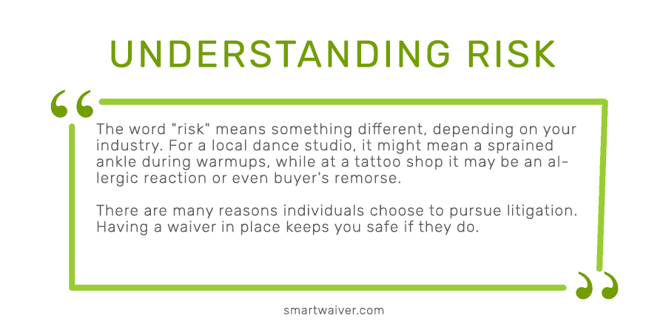 Managing Your Waivers
Like many organizations, you may rely on paper release forms. They can be easily passed out to your patrons before an event or activity, filled in with a pen, then returned to your staff for safekeeping.
But handling an extensive number of forms can be daunting. From organization and storage to determining when it's safe to discard them, managing your documents long-term can be challenging.
Sure, paper waivers have long been the standard. But just because they're the norm doesn't mean they're the best.
Digital waivers are the contemporary answer to an age-old question:
"How do I provide a fast, efficient, and convenient user-experience in an easy-to-manage format?"
What are Digital Waivers?
Like paper releases, digital waivers are legally-binding documents that patrons sign, agreeing to release your organization from liability in the event of an accident or injury. However, unlike paper documents, these digital forms are stored on the cloud and your local hard drive, making them easier to deliver to your participants and reference down the road.
Digital release forms are accessible through smart devices, such as online kiosks, tablets, computers, and smartphones both on and offline. They not only eliminate the need for paper documents, but they also provide valuable insights, such as information on the number of participants using your services each day and the ability to quickly search for a signed waiver by name, date, or specific criteria.
The Benefits of Digital Waivers
Expedited check-in process: Patrons can quickly complete digital waivers with the tap of a screen, either in person or in advance. This means less time filling out paperwork and more time enjoying their experience.
Improved accuracy: Unlike paper waivers, you'll never have to worry about smudged ink, illegible signatures, or other mistakes that might make your document vulnerable. Digital waivers are crystal clear, leaving no room for errors or doubt.
Savings: Paper and ink add up. And if you're paying for storage space or valuable time searching for past documents, the cost only increases. Digital waivers are an affordable, long-term solution with flexible prices that adapt to your needs.
Improved Insights: Waivers contain valuable marketing information, such as your patron's names, locations, gender, age, and how they discovered your business. Having this data in a convenient, digital format allows you to learn more about your client base, helping you tailor your marketing strategies.
Why Choose Digital?
Advances in technology have made it possible to upgrade from even the most venerable forms of technology. With the rise of laptops, tablets, and smartphones, the once-revolutionary desktop computer is a relative paperweight.
Think of what the typewriter meant for those who spent their days putting pen to paper. But you wouldn't use a typewriter to run a Fortune 500 corporation. So, why depend on a sheet of paper that can easily become lost or damaged to defend your organization from liability?
While you may rarely have to look for a release once it's signed, digital liability agreements resolve the need to dig through hundreds, or even thousands, of paper documents trying to find the needle in the haystack.
Digital waivers remove the legwork, so you can focus on what you do best — providing excellent experiences for your customers.
For more information on the implementation of digital waivers for your business, check out the following resources: