How Digital Waivers Benefit Summer Camps
Each year, thousands of happy campers load up their backpacks and bug spray for the chance to hike, bike, and kayak among scenic landscapes, making new friends (and potential injuries) along the way.
In the U.S., summer camp is a right of passage. But if you manage a youth camp, protecting yourself from the liability that comes with outdoor recreation is vital.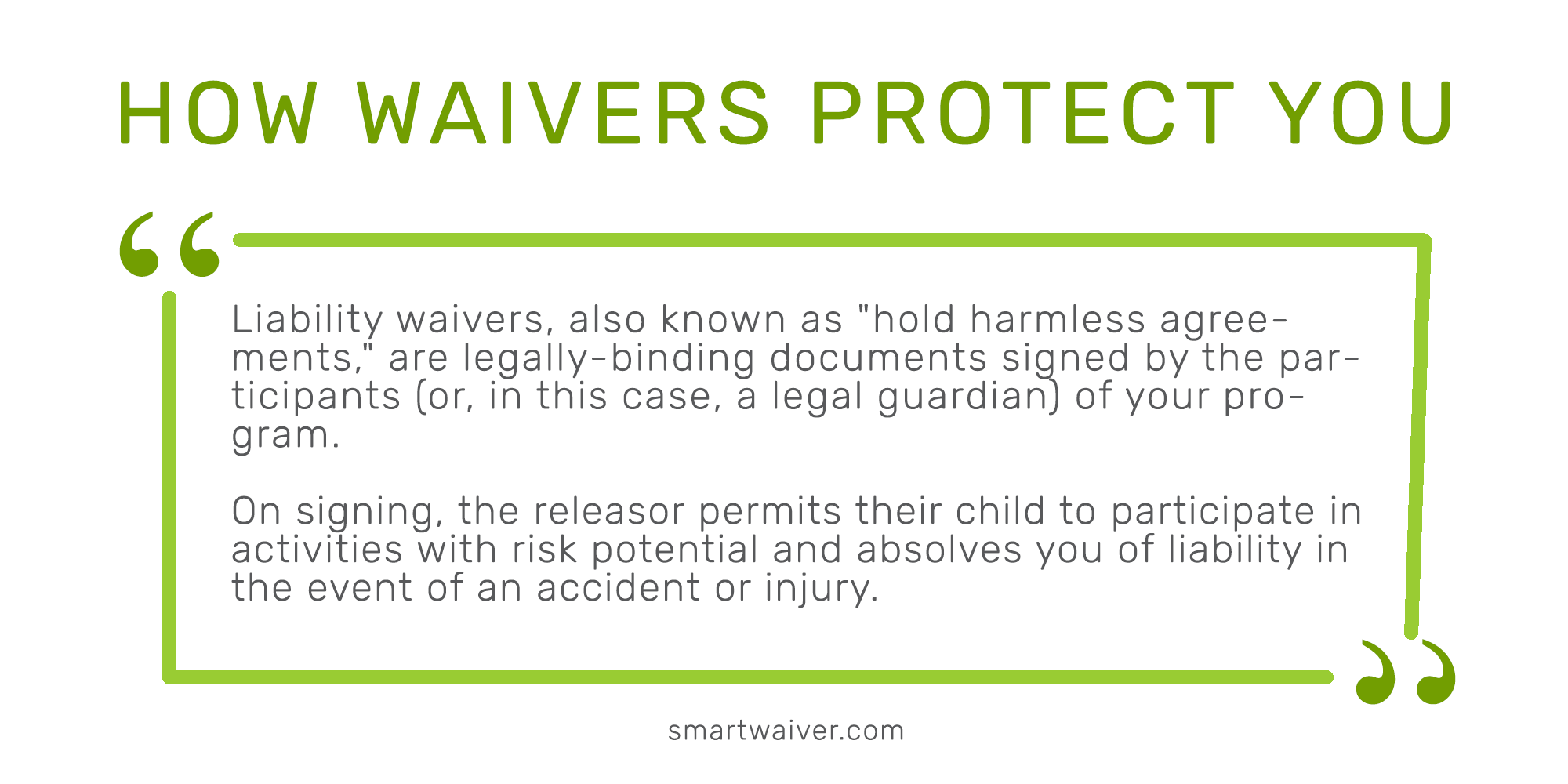 Why Go Digital?
As an organizer, ensuring the safety and enjoyment of your campers is likely your top priority. Liability waivers allow you to accomplish your goals while also protecting your organization.
How Digital Waivers Benefit Camp Organizers
Legally-binding liability waivers live in a secure, searchable database, allowing you and your team to access anywhere, any time.

Pre-registration ensures each of your campers' waivers is signed before they arrive.

Offline-mode allows your participants to complete digital waivers without an internet connection, providing reliable support for remote campsites.

Convenient online editing allows you to quickly update your waivers if you need to include additional activities or considerations.

Completed documents are sent directly to your local hard drive and saved on the cloud, ensuring you have secure, long-term access to your waivers without the need for storage.
How Digital Waivers Benefit Your Patrons
There's nothing more exciting than the first day at camp. Dozens of enthusiastic kids wait eagerly for the chance to enjoy the numerous activities your program provides. Meanwhile, parents are busy checking in, signing permission slips, and trying to say goodbye to their children.
Digital waivers alleviate stress for parents/guardians, allowing them to spend more time hugging their children or calming nervous campers instead of filling out paperwork.
Digital releases also provide participant benefits, including:
The ability to register online at their leisure, saving time at drop-off.

User-friendly interface allows them to manage multiple minors from a single form.

Highly-secure database ensures their information is protected.

Automated response sends a copy of their signed waivers directly to their email for future reference.
A Better Camp Experience with Smartwaiver
If you're ready to make the switch to digital waivers for your summer camp, Smartwaiver can help. For nearly a decade, Smartwaiver has provided secure digital liability waivers for thousands of businesses with a dedication to top-notch support and reliability.
With affordable and flexible pricing, you have access to our full suite of features, including:
Unlimited, customizable templates

Offline waivers

Auto photo capture

Integrations with web-based reservations systems

Automatic WaiverSync

Dedicated access to our U.S.-based support team

And more!
How Does it Work?
At Smartwaiver, we streamline the waiver creation and signing process, making it easier for you to focus on what you do best — providing memorable experiences for your campers.
With our user-friendly dashboard, you can upload your existing waiver language directly into the system to create unique, customizable documents that can easily be shared with your campers. Or, send your existing waiver language to us and our skilled team will convert it into a digital waiver for you.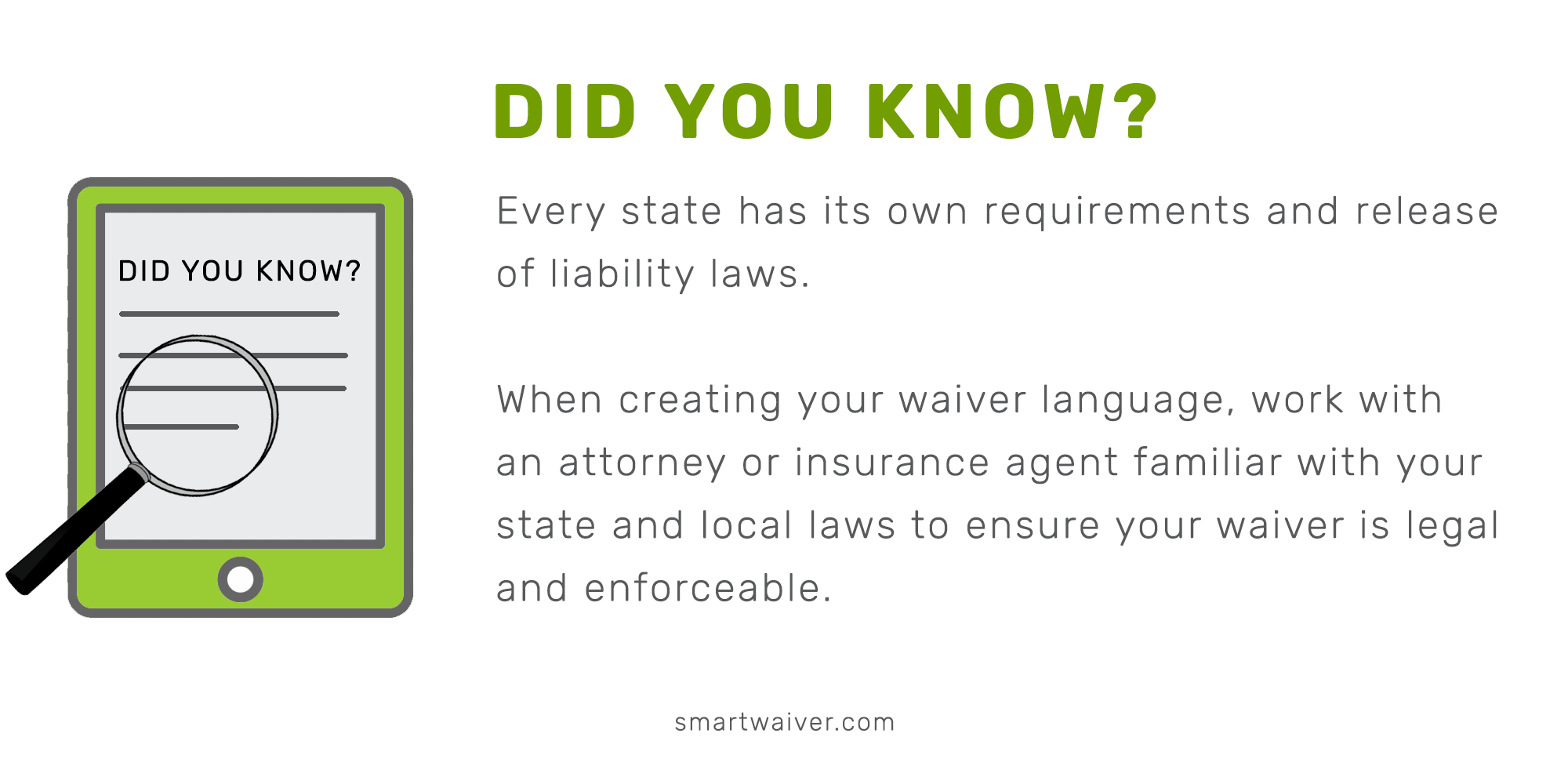 What Our Digital Waiver Customers Are Saying
Shelby L. "[Smartwaiver] made our transition from paper waivers to digital a pretty darn doable project! Allows for our customers to pre-register and save time during the check-in process. Gives us great tracking for demographics and how-they-heard, etc."
Eric W. "Easy to use, great customer service, excellent price, easy to setup. Great record keeping as well. It is very easy to use, and guests don't have any issue signing waivers. Make the switch and you won't be disappointed."
Erik S. "Smartwaiver makes waiver capture WAY FASTER! Storage of paper waivers and then having to look them up is a thing of the past. Easy to use. Customer service is outstanding. Waivers customization is simple."
For more information on effective camp operations, check out these additional resources: