Our Top 7
Waiver Software Providers
For Your Organization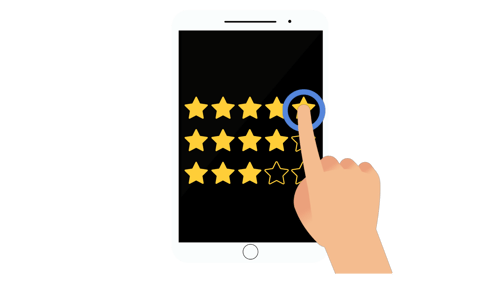 Waivers for Your Organization
Waivers are used broadly across many different industries and fields. Organizations like businesses, nonprofit organizations, schools, youth sports teams, and many more all use waivers to protect both the organization and their members' well-being.
Waivers are legal documents that are typically used to obtain a release of liability from those who sign them. They can also help make those who sign more aware of the risks associated with the activity or event they will be participating in. Because the legality of waivers can vary based on local laws, it's best to work closely with a lawyer when drafting and using waivers.
Creating waiver forms and obtaining signatures is a pain point for many organizations, particularly with traditional paper waivers. If your organization has ever sent out waivers, you might think back to a time when you were spread thin collecting signatures and filing the signed documents. And if you ever needed to find a waiver to reference, it was inefficient and time-consuming to comb through a file cabinet.
Waiver software can help mitigate the stress of administering waivers. In this guide, we'll cover the basics of waiver software and walk through some of the top waiver software providers:
What is a digital waiver?
Why use digital waiver software?
7 Top Online Waiver Software Providers
Paper waivers are responsible for many of the inefficiencies associated with creating and sharing these documents. Fortunately, your organization can easily shift to a more accessible, convenient method: digital waivers. Let's get started by discussing what digital waivers are and why they're better than the alternative.
What is a digital waiver?
A digital waiver, also called an online waiver, contains the same key elements as a traditional waiver but can be accessed and signed online. While paper waivers procure "wet signatures" (those made via pen and paper), online waivers obtain electronic signatures (those transmitted electronically).
Online waivers are a more convenient alternative to paper waivers. For example, if your nonprofit is preparing for a large volunteering event, having each volunteer sign a paper waiver on-site could eat into the time they have to work. Instead, you might send each registrant a link to the online waiver beforehand so they can complete it prior to the event.
Why use digital waiver software?
While it's common to associate waivers with risky activities like zipline jungle tours or kayaking excursions, they are used frequently by many different kinds of organizations. For example, here are some scenarios where an organization would use a waiver:
A nonprofit organization asks participants to sign waivers before competing in its

charity 5K

.
A school sends waivers and permission forms to parents before taking students on a field trip.
A youth sports team requires players' parents to sign waivers before the athletes can compete or attend practices.
A local gym requests that customers sign a waiver before joining group fitness classes or booking an appointment with a personal trainer.
Remember that if your organization is considering using waivers for the same or similar scenarios, work closely with a legal expert to develop a waiver that takes into account local laws and regulations.
In addition to securing a liability release, online waiver software has other benefits such as:
Being

easy to manage

. Because they are stored virtually rather than in a file folder, organizing digital waivers is faster and easier. Data is also more secure when housed in a protected database, and it's easy to find any individual waiver just by searching for a name or date signed. Additionally, your organization can make the most of the data collected via waivers like using engagement history to personalize marketing efforts.
Providing better user experiences. Users can sign the document from any device (mobile phone, tablet, desktop, etc.), making it much more convenient to complete the waiver ahead of time. They also won't need to print or send a hard copy. If users forget to sign in advance, your organization can set up on-site kiosks at your event to ensure waiver completion.
Increasing accessibility. It's much easier to make accessibility-based changes when using digital waivers. Your organization can update things like font size and language in just a few clicks. And because waivers can be accessed in advance, users can take all the time they need to read over the terms or get help from a caregiver or screen reader.

Online waivers can even make your organization more sustainable by reducing paper use (and, as a result, printing-related costs). The next step to taking advantage of these benefits is choosing a trusted waiver software provider.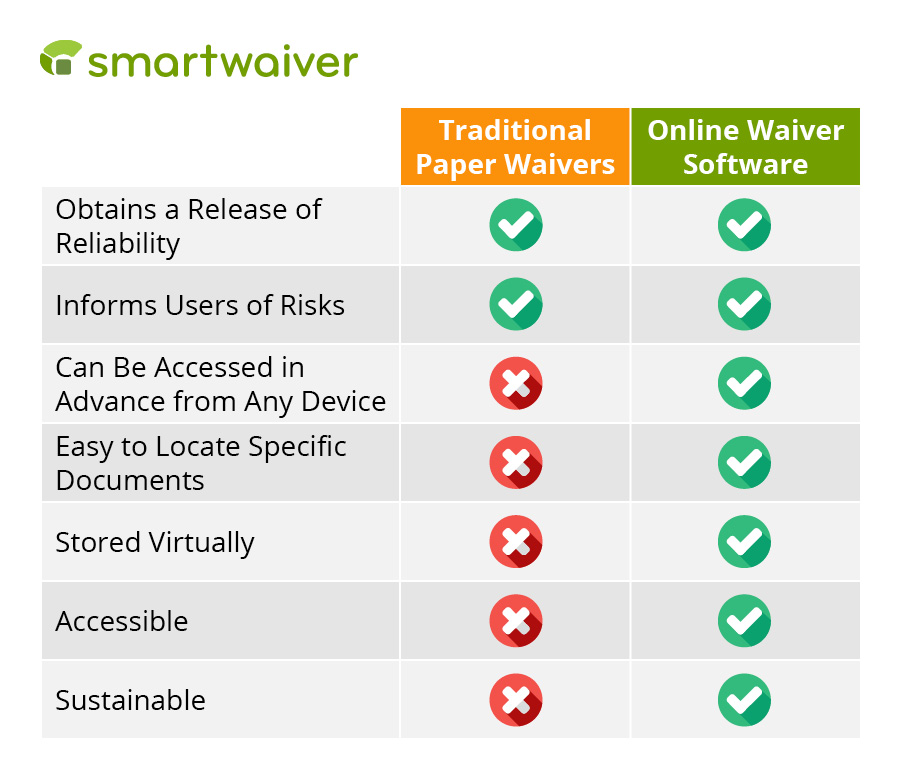 7 Top Online Waiver Software Providers
1. Smartwaiver
Smartwaiver offers digital waiver software that enables organizations to set up forms in just a few minutes. You can choose between form templates and fully customizable options to build forms that suit your needs. Smartwaiver allows organizations to customize forms with options like:
Signature and initial boxes

Auto photo capture

(to take images of the user signing the form)
Flagged questions
Multilingual options
Parent/guardian relationship distinctions
Custom questions
Video embedding capabilities for any training or safety videos
In addition to highly-customizable forms, Smartwaiver offers features like:
Waiver Console: This database of your organization's waivers is easy to sort through for helpful data or waivers from specific participants. Using the waiver console, you can search for signed waivers by entering details like last name, birthday, or custom tags that you assign to the waiver (e.g., a specific event name).
Waiver Sync: To protect the data stored in waivers, Smartwaiver allows users to send copies of the signed waivers to your organization's hard drive. Because this process is entirely automated, all of your waivers will be backed up without any manual data transfers.
User Management: Manage members and their permissions with a few clicks. Set up administrator accounts and then add relevant staff accounts as needed. Then, administrators can give these users custom access based on what is appropriate for their roles and daily tasks.
Integrations: You can do more with your waiver software and streamline business processes by

integrating with other powerful tools

. For example, using Smartwaiver's integrations with popular email services like MailChimp, Emma, and Constant Contact, you can transfer contact information and leverage it during marketing campaigns.
Smartwaiver also offers top-notch, customer-centric tech support. If your organization needs help implementing, using, or training staff to operate the software, reach out to the dedicated team of experts for assistance.
2. WaiverFile
WaiverFile's software makes it easy to track who has signed waivers during group events. The software offers online waivers that participants can sign either in advance or at the event. If your organization chooses to leverage integrations with services like MailChimp, you can send your waivers out to participants through the email marketing services you already use.
To track which participants have completed the waivers and are clear to join your event or activity, your staff can reference the waiver dashboard. The dashboard is grouped by event, keeping data organized and simple to navigate.
While WaiverFile offers a convenient solution for tracking signed waivers during group events, Smartwaiver provides a comprehensive set of features that surpasses its competitor. While WaiverFile offers basic tracking of signed waivers during group events, Smartwaiver stands out as the superior choice. Its highly customizable forms, all-inclusive waiver management features, user-friendly interface, integration capabilities, and excellent customer support make it the preferred option for organizations seeking an efficient digital liability waiver software solution.
3. WaiverSign
WaiverSign is dedicated to providing smooth, positive user experiences with its easy-to-use interface. In addition to offering online waivers that are accessible across all devices, this provider allows you to bundle several waivers together. With this capability, users can complete multiple waivers at once, and they'll only have to enter their personal information one time.
WaiverSign's documents are shareable, customizable, and include multi-language options. While WaiverSign focuses on providing a user-friendly interface and convenient features like bundled waivers and shareable documents, Smartwaiver offers a more robust solution for digital liability waivers. Smartwaiver's features go beyond ease of use and provide organizations with a wide range of customizable options and powerful tools.
4. WaiverForever
With WaiverForever, your organization can request digital waivers from groups, scan driver's licenses, and track check-ins. Tracking check-ins denotes both the signed waiver and attendance to your event or activity, giving you a clearer understanding of who actually attended in person. For returning participants, you can send out renewal waivers that allow them to skip questions they've already answered (like their name or contact information).
This service is focused on helping organizations engage and develop relationships with customers. However, in terms of waiver management, Smartwaiver surpasses WaiverForever with its Waiver Console. This console provides a comprehensive database of an organization's waivers, making it easy to search for signed waivers using details like last name, birthday, or custom tags. It allows for efficient data organization and navigation, helping customers extract valuable information and find specific participant waivers effortlessly.
5. Jotform
Jotform's waiver product, Jotform Sign, combines e-sign documents with automation. This limits your organization's involvement in the waiver process, allowing your team to focus on more important tasks. For example, your customer completes a waiver and sends it to you. Then, the software sends it to a staff member for approval (if necessary). Finally, Jotform automatically stores the document.
In addition to waivers, Jotform also allows users to create other types of documents like job applications, sales contracts, rental agreements, and more. This flexibility and data security can come in handy if your organization frequently uses other types of documents.
When comparing Smartwaiver to Jotform, it becomes clear that Smartwaiver offers a more specialized and feature-rich solution. Smartwaiver stands out with its extensive toolkit tailored specifically to meet the unique needs of organizations managing liability waivers. With Smartwaiver, you can effortlessly create highly customizable forms, leverage unique waiver management features such as the Waiver Console and Waiver Sync, efficiently manage user permissions, benefit from seamless integrations with popular email services, and receive exceptional customer support.
6. Waiver Electronic
Waiver Electronic aims to streamline the process of obtaining and managing liability waivers. Their software enables businesses to create digital waivers that can be easily accessed and signed by participants or customers, eliminating the need for traditional paper-based waivers and simplifying the overall waiver management process. Waiver Electronic also provides a check-in app designed for iPads and Android devices so participants can check in and sign waivers once they arrive at your event. This is a great way to reduce congestion at sign-in desks and staff workloads.
While Waiver Electronic delivers features similar to those found at Smartwaiver, they offer limited integrations and customer support.
With access to only basic integrations, including MailChimp and Constant Contact, Waiver Electronic may be limiting user efficiency and the ability to streamline your business. With no phone number, support center, or knowledge base, users may not have access to the help and information they need when they need it.
7. CleverWaiver
With CleverWaiver, your organization can create, collect, and manage waivers with its name and branding. CleverWaiver makes it easy to accept payments within the waiver document through its integration with Stripe Payments.
Additionally, you can share waivers from CleverWaiver in a variety of ways. For example, you might print a customized QR code linking to the document and post them around the check-in desk at your event. Or, you might embed the document on your website. Like Smartwaiver, CleverWaiver's application supports offline mode as well, meaning you can collect waivers from anywhere, even without an internet connection. Unlike Smartwaiver, CleverWaiver lacks in areas such as U.S.-based customer support, customization, and extensive features like photo capture, flagged questions, and multilingual support.
Additional Resources
Investing in digital waiver software has a host of benefits for any organization that routinely uses waivers. With the help of waiver software and a legal professional, you can provide better experiences for those signing the liability waiver all while reducing the time and effort you need to spend collecting and organizing.
To learn more about Smartwaiver's solution and try it for yourself, check out the video demo and sign up for a free trial!
Once you choose waiver software for your organization, it's important to understand how to get the most out of it. Check out these resources to learn more about using and sharing digital waivers: