Digital Waivers - A Must Have For Franchise Organizations
The success of a franchise lies in your image and the reputation of your organization as a whole. After all, guests often visit franchises because they know the brand through advertising and prominence.
In a franchise organization, franchisors go to great lengths to ensure their franchisees are maintaining the system standard. This involves everything from marketing materials and communication to the security and scheduling software they use. But if an organization is willing to go to such great lengths to manage its image and operations, why should its protection from liability be any different?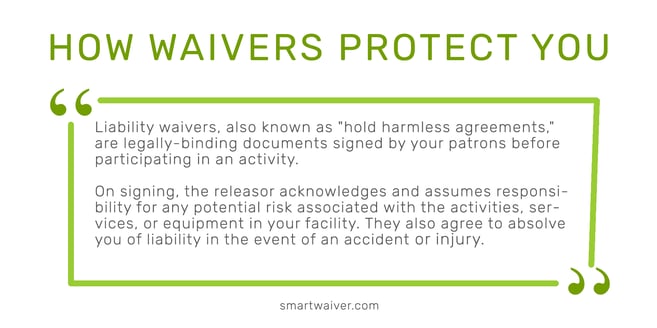 How Digital Waivers Can Protect Your Franchise
It's an unfortunate fact that some individuals look for ways to capitalize on misfortune. After all, America is the most litigious society in the world, spending hundreds of billions each year on lawsuits.
While it's not likely that your guests are visiting your franchise expecting to be injured, having legal steps in place can protect you if they are.
Digital waivers for franchises make it easy for your participants to sign a release of liability waiver before participating in the service or activity you provide. Whether that's fitness centers, yoga studios, or trampoline parks, ensuring that each of your guests acknowledge the risk potential and absolve you of liability can save you from costly legal battles down the road.
Vicarious Liability
What is vicarious liability? Vicarious liability is a situation in which one party is held partly responsible for the actions of another. While well-crafted release of liability waivers are generally upheld in court, protecting the organization from franchise negligence, there are exceptions.
Franchise agreements generally state that the franchisee is an independent contractor and not in an agency relationship. In most cases, these contractual agreements protect the franchisor from liability concerns based on the franchisee's actions. Nevertheless, claims do arise where a claimant and their attorneys seek litigation against the organization rather than the individual location. And in some cases, they win.
These cases typically arise when a claimant can prove their injury resulted due to corporate-mandated policies (e.g., erroneous weight or height restrictions, improper use instructions, or other misinformation that may result in injury) or loopholes in their liability waivers.
While cases like this aren't the norm, they serve as reminders of how important it is to ensure your franchisees are speaking the same language, both in branding and in liability waivers.
Which Franchise Business Can Benefit from Digital Waivers?
Risk is all around us, even in places you might not consider. While it's not common for your favorite fast food spot to make you sign a waiver before upsizing your Coke, cases like the McDonald's coffee lawsuit show the potential for danger in unexpected places.
Hyperbole aside, digital waivers protect organizations across a range of industries, including:
Adventure Tours
Yoga & Pilates Studios
Rock Climbing Gyms
Spa & Fitness Centers
Massage Studios
Tattoo Studios
Physical Therapy Clinics
Resort Chains
And more...
Amid the pandemic, digital waivers for franchises can also ensure that your guests recognize and agree to your COVID-19 policies and safety procedures, helping to protect your business from liability associated with transmission or contraction of the disease.
Smartwaiver Enterprise
Smartwaiver is the only dedicated digital waiver solution with a reputation for reliably managing franchises. Since 2012, we have supported thousands of organizations, catering to the unique needs of large businesses and franchises. With a dedication to providing top-notch support, Smartwaiver Enterprise provides:
Enterprise solutions for large organizations
Dedicated, U.S.-based customer support
Extensive experience managing franchise organizations
Intuitive software
Single sign-on
Custom integrations
Access to all signed waivers, organization-wide, from a single dashboard
Ensure your organization is protected from liability. Find out more about Smartwaiver Enterprise today.