Since launching Smartwaiver's offline feature with our iOS Kiosk app last summer, Android users have been wondering when they can join the offline waiver party. Today we're excited to announce that offline for Android is now available in the Google Play Store! If you're using a Galaxy Tab A 9.7" or Galaxy Tab E 9.6" tablet, you too can now collect signed waivers - even without internet access.
Note: This latest release is available in the U.S. only and requires Android 7.0 Nougat. Before installing, be sure that your tablet is able to update to this version.
Start Using Offline Waivers
Install the latest version of the Smartwaiver Kiosk app for Android and follow the steps below to start using offline waivers today!
How to Set up Offline Waivers
After installing the latest version of the Kiosk app on your tablet, you'll need to enable the offline feature from your account. If your tablet has already been registered with your Smartwaiver account, depending on your model, you may be asked to re-register your device.
Log in to your Smartwaiver account from your desktop computer.
Click on your Username -> Account Settings -> Manage Kiosks.
Click on the Kiosk name.
Click on the dropdown menu next to Offline Collection Limit. This is the maximum number of offline waivers you would like to collect on your device when an internet connection is not found. The default limit is set to: "No Offline Waivers". To enable the offline feature, simply toggle down to the number of offline waivers you'd like to temporarily store on your device.
Next, create an Admin Passcode. This is a four digit code that the Smartwaiver Admin will use to access your offline waivers from your device.
Launch your smart waiver from your tablet.
You're all set! Your smart waiver will appear on your device as it did before, with two small additions:
You'll now see:
An online indicator on the lower left of the screen.
- When the indicator is GREEN your device has an internet connection.
- When the indicator is RED your device is offline.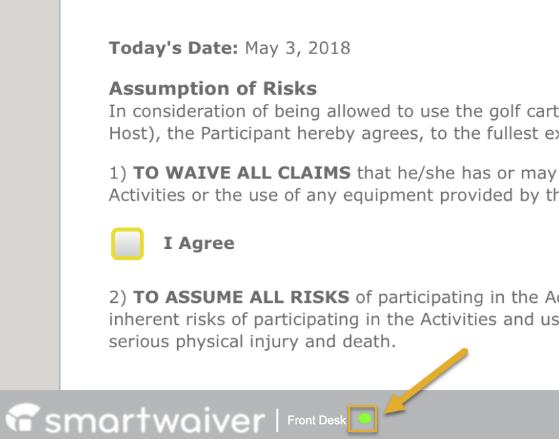 A padlock icon on the lower right of the screen.
Clicking on this icon will ask for the Admin Passcode you set up in Step 5 above.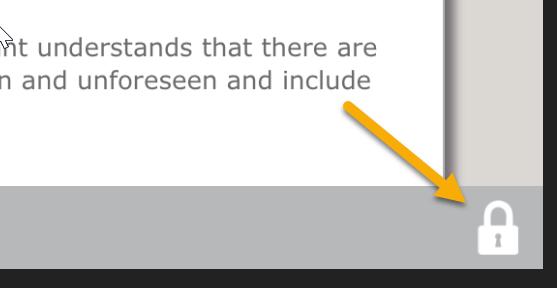 When the correct Admin Passcode is entered, you will see 2 tabs on the bottom of the screen:
My Templates Tab
Shows the waivers that can be displayed on your device.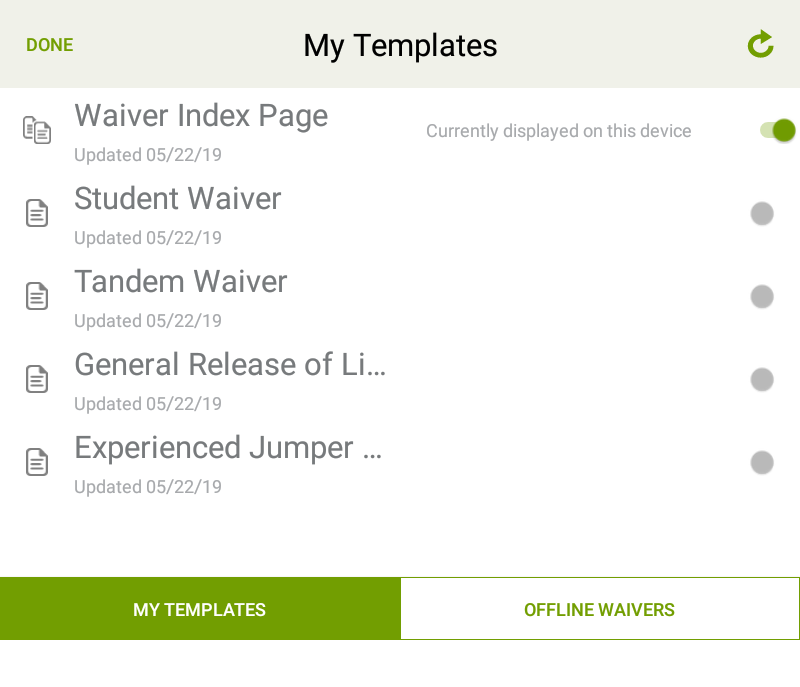 Offline Waivers Tab
Shows the participants that have signed your waiver on your device in offline mode. Any participant you see here has NOT been uploaded to your Smartwaiver account. Once an internet connection is established, these offline waivers will be instantly sent to your Smartwaiver account in the cloud and will appear in your Waiver Console.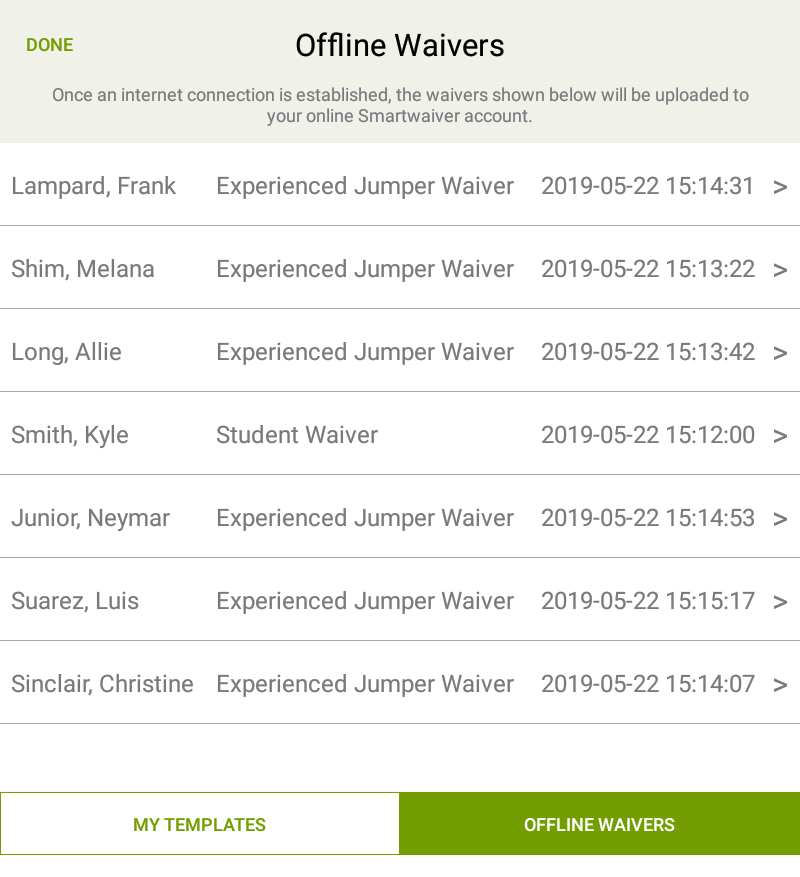 Tapping on the participant's name will show the waiver that was signed.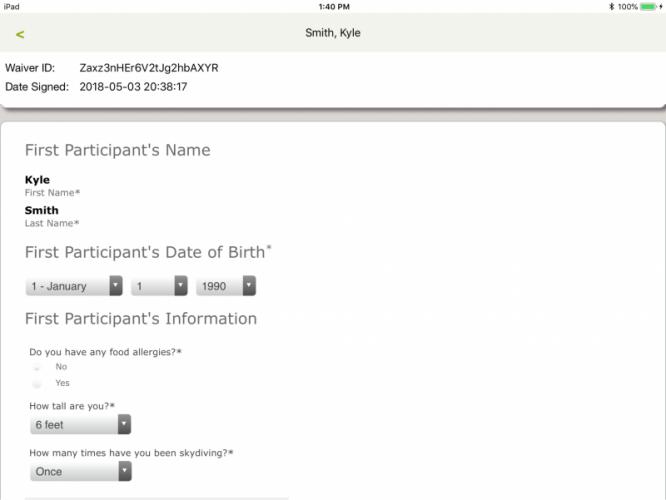 Thank you for your patience, Android users. We hope you feel that offline access was worth the wait.
Please let us know what you think.