Smartwaiver vs DocuSign
There's no denying, DocuSign is a powerful and vital tool, allowing users to share digital documents and collect e-signatures, typically via email. While DocuSign is essential for those who regularly send legal documents or contracts in industries like finance, real estate, insurance, and government, it wasn't designed for large-scale liability waiver collection.
DocuSign's PowerForms
To fill the void, DocuSign created PowerForms, where users can create a digital document and share it via URL or embed it into their website. Offered as a one-size-fits-all form for signature or information collection, PowerForms can be used to collect liability waiver signatures, but doing so is a lot like fitting a square peg into a round hole by whittling down the edges.
PowerForms are a limited feature within the DocuSign suite and are only available to users with Business Pro plans. Unlike Smartwaiver, which provides all features to all pricing plans, users hoping to leverage PowerForms for their digital liability waivers may end up paying for tools they don't want or need.
DocuSign's PowerForms are a catch-all form that were developed as a way to help users collect data outside of the software's traditional methods. Because they're only a component within the DocuSign suite, they lack the features of true digital waiver providers like Smartwaiver, such as convenience and ease-of-use for users of all skillsets.
Hidden within the DocuSign suite, setting up PowerForms may come with a steep learning curve for those who are less tech-savvy. Learning to create and share a single form can be daunting for even skilled users.
Unfortunately, putting your forms to work can also prove challenging for users who wish to create a signature kiosk, collect signatures offline, or create forms with custom branding — features that DocuSign was never intended to provide.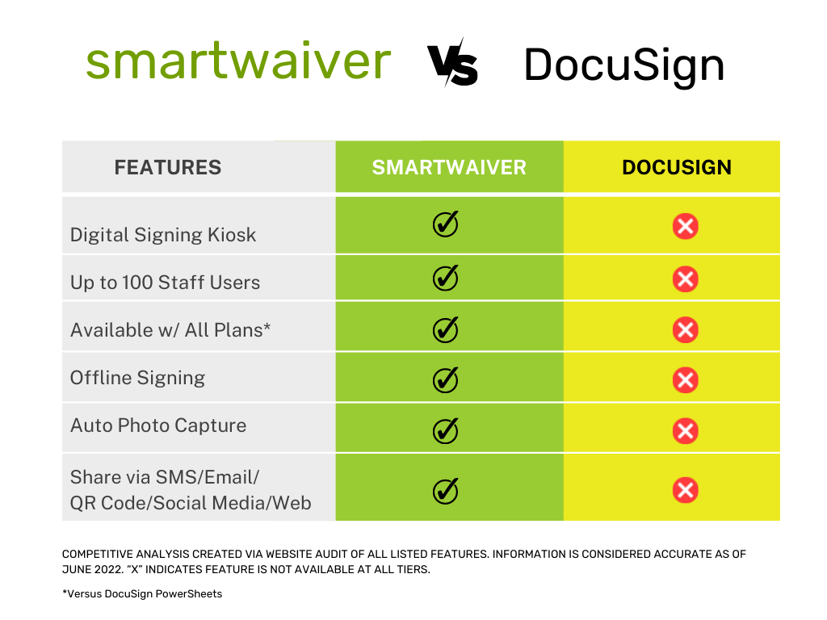 Not All E-Signature Software is Created Equal
We know — DocuSign is a big name with an even bigger valuation. But when it comes to digital liability waivers, not all software is created equal.
DocuSign shines in providing e-signature software for businesses who need to share collaborative legal documents with known individuals. But this is a far cry from large-volume waiver collection, where an organization may need to collect hundreds of signatures each day. In these instances, efficiency, organization, and simplicity are paramount.
That's where Smartwaiver comes in.
At Smartwaiver, digital waivers are all we do, so you can guarantee we do it well. Our robust platform is streamlined for users of varying skill levels, providing a host of features that allow you to collect, organize, and securely store legally-binding digital waivers with ease.
Wrapping Up
As the first software of its kind, Smartwaiver became the industry leader because we provided an elegant solution to the waiver signing process. However, after a decade in the business against a rising tide of competition, we've maintained our title simply because we're the best.
Sure, we're humble. And if it sounds like we're tooting our own horn, it's only because we're passionate and proud of the product we provide our customers.
But don't take our word for it. See for yourself what Smartwaiver can do by signing up for a free trial. We know you're going to love it!