Smartwaiver VS Waiver Collection Apps
When Smartwaiver set out to simplify the waiver signing process, we were pioneers in the industry. Now, after 10 years, we're proud to continue holding the title of Industry Leader.
But all revolutionary concepts come with their share of competition. As the e-signature industry grows, increases in copycat software continue to flood the market. Unfortunately for many consumers, these products are often unreliable. Or worse, untrustworthy.
At Smartwaiver, we put our all into creating state-of-the-art software that is not only easy to use but also secure — leveraging the same encryption algorithm adopted by the US government for protecting top-secret documents. Run-of-the-mill waiver software may allow you to collect signatures — but at what cost?
Don't get us wrong. We're not saying all waiver collection apps are flawed. Some of our competitors have developed products that will get the job done. But when it comes to your legal documents, do you really want to settle for second best?
Below, we've identified a few of the industries front runners and how they stack up against Smartwaiver.
Head-to-Head
Waiver Forever - Waiver Forever offers a PDF waiver builder and a "Smart Usage Plan" that allows you to pay only for the "sheets" you use each month. While their rates are competitive, their tiers limit the number of templates, devices, users, and integrations you have access to, and analytics are only available for 7-days at their lowest tier.
Waiver Electronic - Waiver Electronic offers many features you'll find at Smartwaiver but with limited integrations and support. With access to only basic integrations, Waiver Electronic may be limiting user efficiency and the ability to streamline your business. With no phone number, support center, or knowledge base, users may not have access to the help and information they need when they need it.
WaiverFile - Like many of our competitors, WaiverFile provides similar features, with noteworthy exceptions. At Smartwaiver, our patent-pending Auto Photo Capture is a favorite among clients. WaiverFile offers a similar feature, but only at an additional cost. While WaiverFile provides a custom form builder, the editor is complicated and lacks easy-to-use, plug-and-play features, which may be challenging for those without extensive knowledge of content management systems and website building.
WaiverSign - WaiverSign's pricing is broken down into two tiers: "Standard" and "Enterprise," starting at $10.00 per month up to an undisclosed "custom" rate. You can choose 50 waivers per month or 50,000 with no in-between. With only two pricing options, there is very little wiggle room for mid-sized organizations. Additional waivers cost 10 cents each, which can add up quickly for mid-range companies. WaiverSign also lacks a proprietary app, instead relying on third-party app recommendations for both iOS and Android.
Wherewolf - While Wherewolf offers a variety of robust features, many are limited to their highest tiers. To benefit from any of Wherewolf's best features, you'll have to sign up for their Essentials package, which starts at $149.00 per month. While this package includes 4,000 waivers and access to their top features, it does not include access to essential benefits, like SMS text waivers. With their baseline package starting at a premium price, it also makes their services inaccessible to smaller organizations with lower waiver needs. With no dedicated app, Wherewolf also restricts users to iOS only. While they have a knowledge base for basic support questions, they do not offer any phone support, relying only on email for support issues.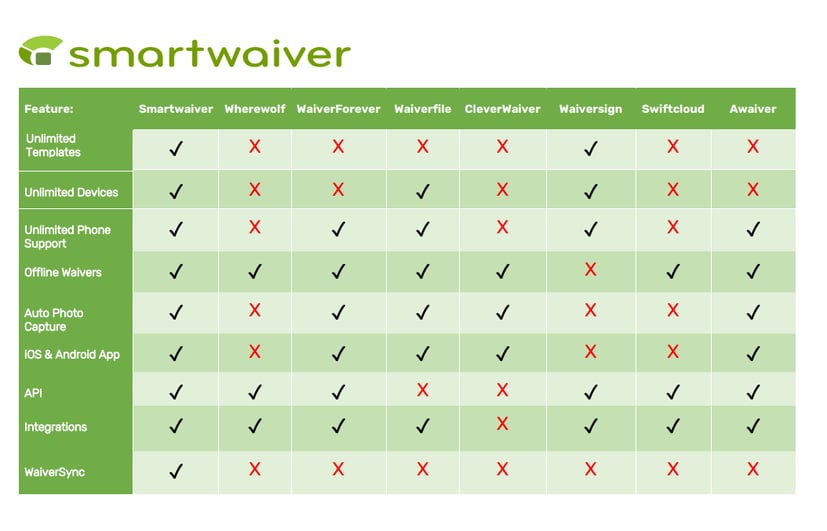 Wrapping Up
As the first software of its kind, Smartwaiver takes liability protection seriously. For over ten years, we've provided state-of-the-art software paired with unmatched customer service to ensure the safety and satisfaction of our clients.
When it comes to liability protection, don't settle for second best. Try Smartwaiver today, absolutely free, and see what makes us number one.