Event Waiver Management
Group activities and events are a staple of sports, activities, and fun centers. But managing digital waivers for large groups can be challenging. Ensuring each of your participants completes their release while keeping the line moving is a tedious process that doesn't come without its share of frustrations.
With event waiver management from Smartwaiver, we do the heavy lifting so your team can focus on providing fun and safe experiences for your guests.
How it Works
Event waiver management allows you to create custom events (birthday parties, corporate activities, youth experiences, etc.) and includes pertinent details such as the date, time, location, and description. These details not only provide essential information for attendees but also help you group and organize your events for future reference.
Each event generates a unique link to send to participants. This allows them to sign before they arrive, saving your team and guests time at check-in. Once an attendee clicks on the link, their name automatically appears on the participant list, helping you keep track of everyone who has and hasn't signed.
The "What Ifs"
Smartwaiver makes it easy to manage "what if" scenarios. For instance, what if an unexpected guest shows up at the last minute? What if attendees don't complete their waivers before the event?
Fortunately, we've thought of that.
While the participant list is populated by each guest who clicks the event's unique link, manual overrides make it easy to quickly add last-minute attendees to an event, ensuring the guest list stays accurate. Designated Event Managers let you enlist the help of your hosts, increasing the number of signed releases before the event.
Whether it's mom and dad, a youth leader, or an educator, your assigned Event Managers have access to a secure, view-only guest list where they can monitor which participants have completed their waivers and which haven't. If a guest hasn't completed their waiver, the Event Manager can copy the link for their event and send it to participants, taking them to a landing page for their event.
Valuable Insights
Waivers are designed to protect your business from liability. But digital smart waivers provide valuable marketing insights long after the party is over. With each signed release, your marketing database grows.
Waiver data provides an invaluable look into your demographics, allowing you to improve your marketing initiatives and more accurately speak to your target audience.
Email integrations make it easy to reach out to customers who opt-in to your mailing list, which can drive engagement and inspire past attendees to plan events of their own.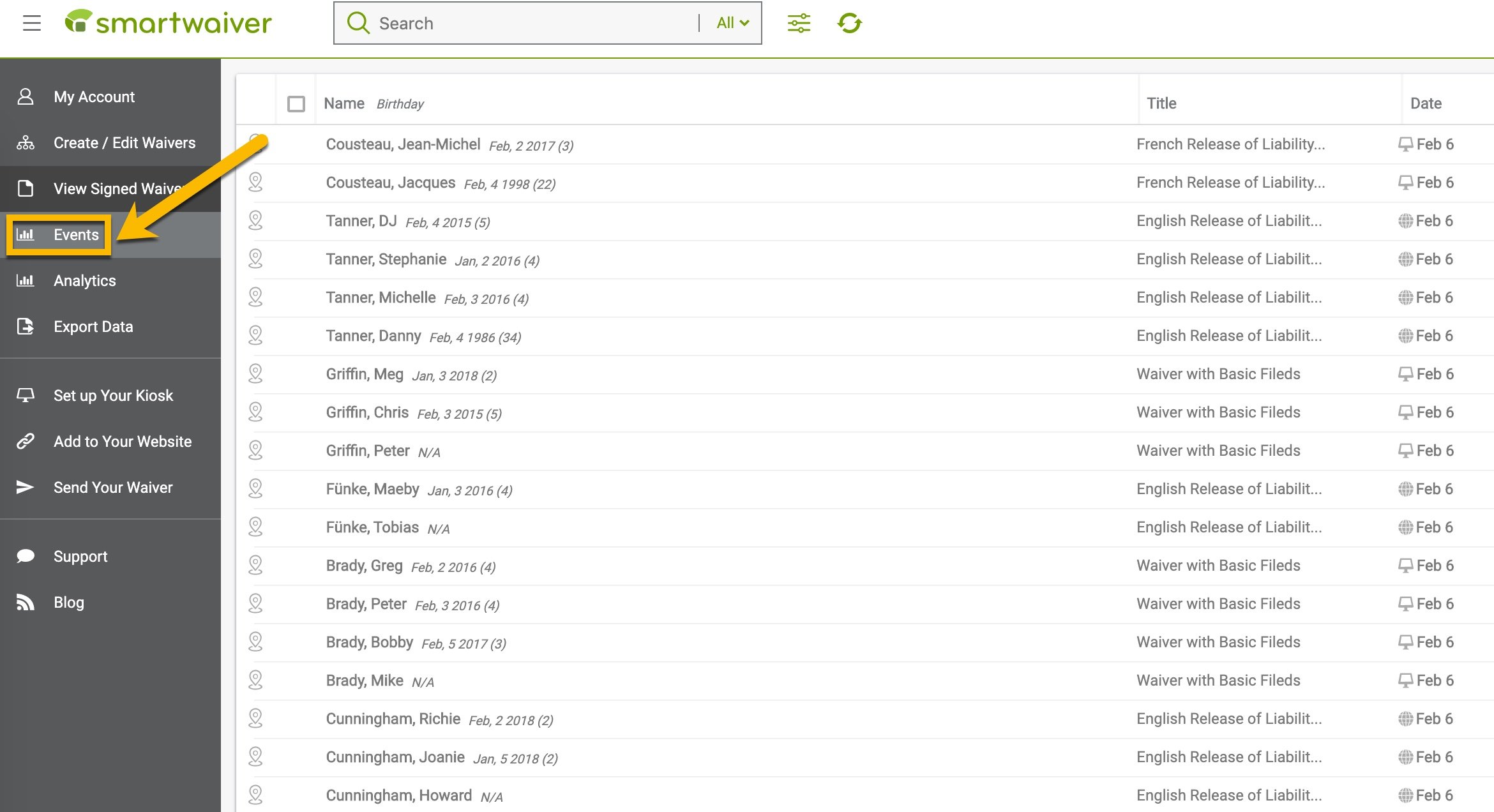 See For Yourself
Smartwaiver's event waiver management feature is just one of the ways we help streamline your operations. Learn more about our extensive features or try it for yourself, risk-free, for 30-days.